Dear Friends
Welcome to our August newsletter,
Although the country appears to be getting back to the "new normal" in most walks of life it seems somewhat surreal walking into shops and petrol stations, cafes etc having to consider masking up before entering the premises, with my glasses steaming up and with a general feeling of claustrophobia I can only hope this is not with us for the long haul. It is at times like this where we must spare a moment to consider those poor care workers and NHS staff who have to tolerate these conditions daily and for hours on end, where as we can simply leave the shop and remove our mask, it reinforces to me how they have been so undervalued, lets hope they get the respect they deserve going forward.
In last months newsletter we featured a special "Summer 20″ offer giving the first member or newsletter reader a 20% discount on any item in store, this limited opportunity initiative was immediately seized upon by a valuable UK based client who snapped up our charming Japanese bronze Carp vase by the Nogawa company, a vase that this particular collector has had on his wish list for some time, well done to him and thanks to you all for you continued support during these difficult times.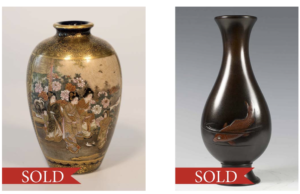 I must confess that we had another enquiry for a piece of Satsuma on the same day and from another of our members area clients, in the spirit of fairness we applied our 20% offer to that particular buyer as well, helping him to add to his Japanese Ceramics collection.
This month we are delighted to feature this stunning high quality and humorous mixed metal Okimono of a pair of Oni carrying aloft a huge glass ball, confidently attributed to Sano Takachika. For further details click here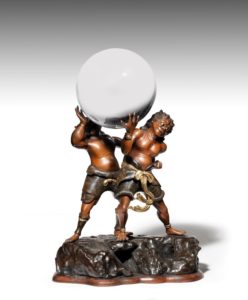 Meanwhile with the lack of physical venues to attend I continue to spend countless hours researching and collating my carefully curated collection, in preparation for launching a publication to coincide with the Asian art London period during Oct – Nov, it is a very exciting project that is coming together nicely and will hopefully appeal to a wider audience, some items you will have seen others will be totally market fresh, I look forward to sharing the final production exclusively with you in the first instance.
Talking of fairs the organisers of the tri-annual Antiques for Everyone at the Birmingham NEC have used their initiative and marketing skills to great effect to launch a virtual fair to which I was invited to host a few pieces. Please click through to have a look at this unique event, it just shows what is possible in the face of adversity for these forward thinking organisations, well done to Dan and his team for at least trying to keep the wheels of industry turning.
In other news I have received an e-mail advising us of the cancelation of Wilton House in March 2021, it will be most disappointing to miss my local event, but at least with the amount of notice given we should be able plan a contingency, watch this space.
Have an enjoyable Summer and do stay safe.
Best wishes
Steve
Copyright © 2020 Steve Sly Japanese Works of Art, All rights reserved.