Dear friends
Welcome to our August Newsletter.
Following on from a bizarre and frustrating July where football didn't quite come home, Freedom Day didn't quite materialise as planned and eager holiday makers looking to jet off to the sun quickly learnt that the governments ever changing red, amber and green travel guidelines meant it was a much safer bet to stay at home, not a bad decision when you consider the glorious weather we have experienced in mid-July, Teddy boy and I certainly enjoy our twice daily beach walks.
In July amongst a selection of sales we found a new home for two items that we had previously sold and repurchased for varying reasons, the first a mixed metal Okimono of two Oni firmly attributed to Sano Takachika and the latter a most delightful mixed metal Kogo depicting Benten playing her Biwa. These modest priced items, by comparison, have joined an incredibly well picked Japanese metalware collection that we are helping to curate for an important UK based collector, a client who seems to have a natural eye for fine Japanese metalware's in particular.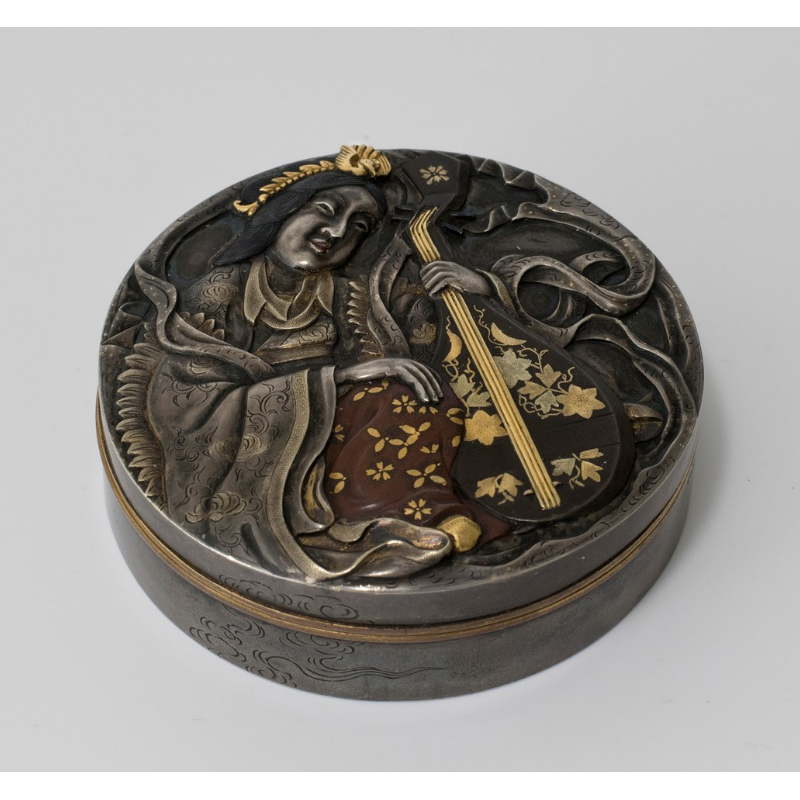 If we can assist with adding to, or perhaps acquiring part, or all of your current collection please do not hesitate to contact us in the strictest confidence. steve@steveslyjapaneseart.com
I have to admit I am looking forward to a little downtime during August, but will certainly not be venturing far from the shores of Hampshire and Dorset and the beautiful new forest. Plenty of walking, some boating and a few al fresco lunches with friends and family will be all the respite I require before looking ahead to a busy Autumn schedule.
The preparations for the Chelsea show are certainly hotting up, the event gives me the first opportunity in almost two years to showcase my exhibition items in person, as well as via a pdf to you, my online followers. There are just a handful of fantastic Japanese works of art remaining from volume I of my book "2020 Vision of an enlightened ruler", and these will be exhibited alongside the 24 market fresh items that will make up volume II of this year's production.
I am delighted to say that the final proofs have gone to the printers, and I am planning for the hardback books to be available to purchase at the Chelsea show, with online orders available in late September, you will of course have first opportunity to browse the online pdf prior to ordering your copy.
To coincide with the build up to the show I have purchased some advertising space alongside 2Covet in a London life magazine, in which I have highlighted just one of those items, a fully signed bronze planter by the Kanazawa Doki Kaisha, a tour de force of mixed metal inlaid work from the mid Meiji Period, and just a small indication of the quality of item that this year's production will deliver.
I will keep everything else under wraps until the pdf is ready for launch in early September and leave you to judge the content. I am really pleased with the result, but the proof of the pudding will ultimately be decided by the appetite of the audience.
Going for Gold
In other news many of us will have been following the Olympics in Japan these past few days, it is such a shame that the athletes have trained for 5 years to reach the peak of their fitness to now have to perform without a live audience. Whilst nothing can replace the buzz of those wild trackside celebrations, the mere fact they have managed to stage these games will make any medals won an outstanding achievement, whether they be Gold, Silver or Bronze.
I have been inspired by the beautiful scenery as the backdrop to the games and have handpicked three items from my inventory that I offer you at an exclusive 25% member's only discount for the duration of the games. The subject of each item offers us a permanent reminder of such an enchanting and mystical group of islands in the south Pacific.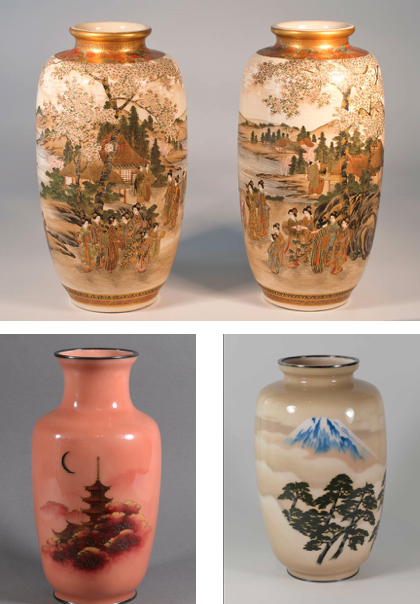 Simply quote "Olympic25" when enquiring.
Enjoy the summer break and I look forward to sharing my next production "2020 Vision of an enlightened ruler" – Vol II, exclusively with you next month.
Best Wishes,
Steve