Dear Friends
Welcome to our August newsletter.
July was the month that bought us further remarkable shenanigans at Westminster, resulting in the demise of Boris as PM and the subsequent jockeying for position to enter number 10. It was also the month that searing temperatures from the continent literally brought what was left of the UK transport system that wasn't on strike, to its knees, with buckled rail tracks and molten runways just part of the problems being faced.
Between these extraordinary July events I was entering the second week of the Masterpiece London show June 30th – July 6th, itself a red-hot event that resulted in the demise of over 50% of my exhibits, with record sales to new and existing clients from across the globe. I left London and the looming heatwave on Thursday 7th and was so grateful to be home walking Teddy on the beach prior to the meltdown.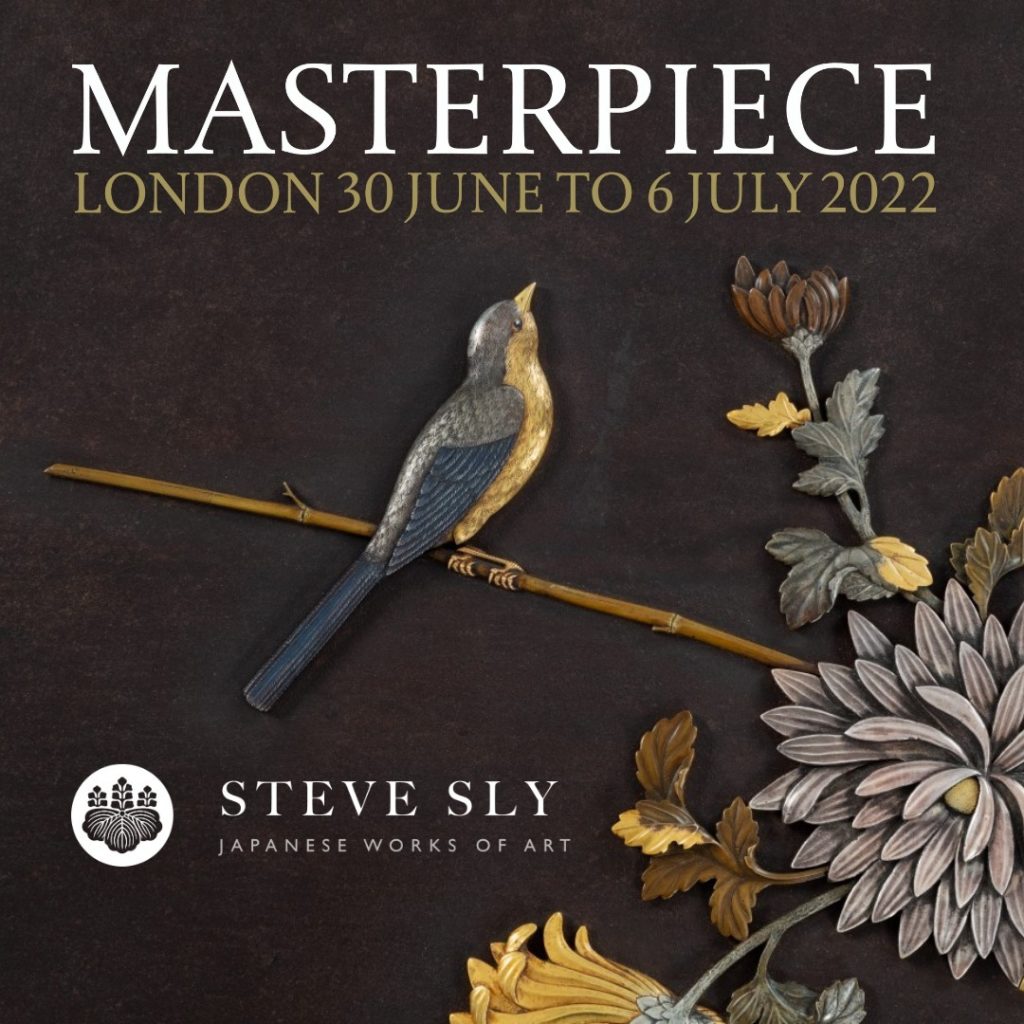 I would like to take this opportunity to thank all of the friends and clients, old and new, that visited me during the 9 days, and in particular those that had ventured thousands of miles to be with us, it was also lovely to see some of the team that had so diligently assisted me in preparing the exhibition catalogue, including Emma our excellent photographer, Mieko my trusted Japanese researcher and Sophie and Frances from 2Covet, I know they had a much-deserved enjoyable day out.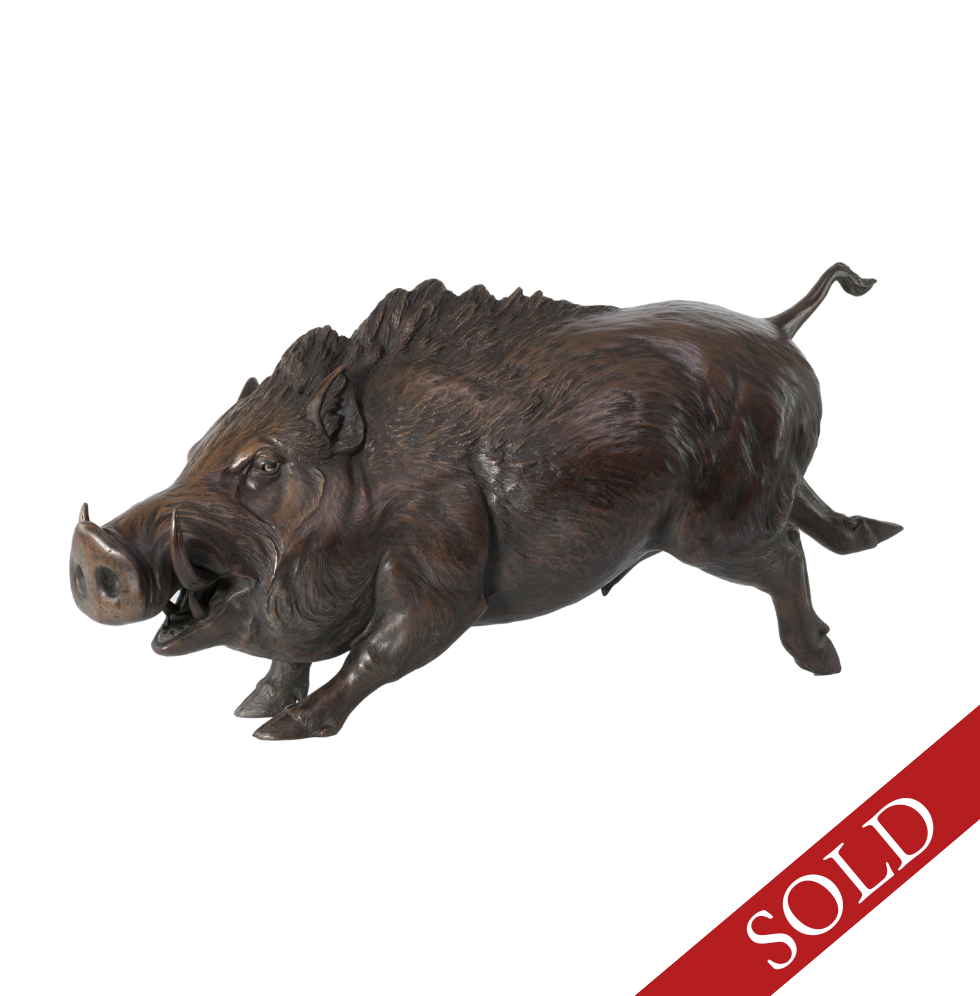 This little Piggie went to market, this little piggie never came home!!
Patron and curators evening rather unexpectedly kicked off with a flurry of sales, some to an existing valued client, including the market fresh Ikkoku and Ozeki vases at plates 31 & 33, as well as sales to new clients. Thankfully the pre fair nerves had settled and we were certainly up and running. This trend continued with multiple sales on Wednesday, the actual preview day, where the undoubted star of the show was the Wild Boar Okimono, artist signed by Atsuyoshi for the Maruki company. He must have been photographed a hundred times and could have sold a dozen times in that day alone, the new lucky owner is now housing him in a historic landmark building in Wiltshire, we look forward to a picture of him in his new surroundings.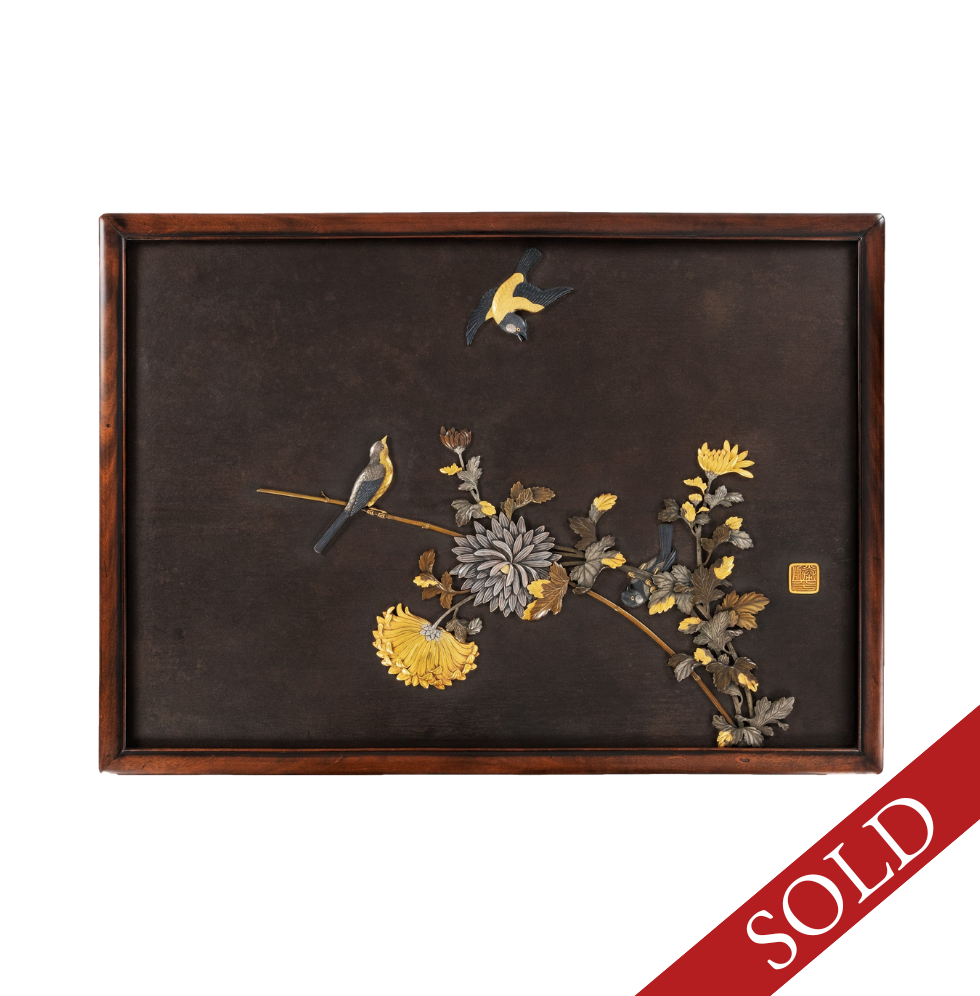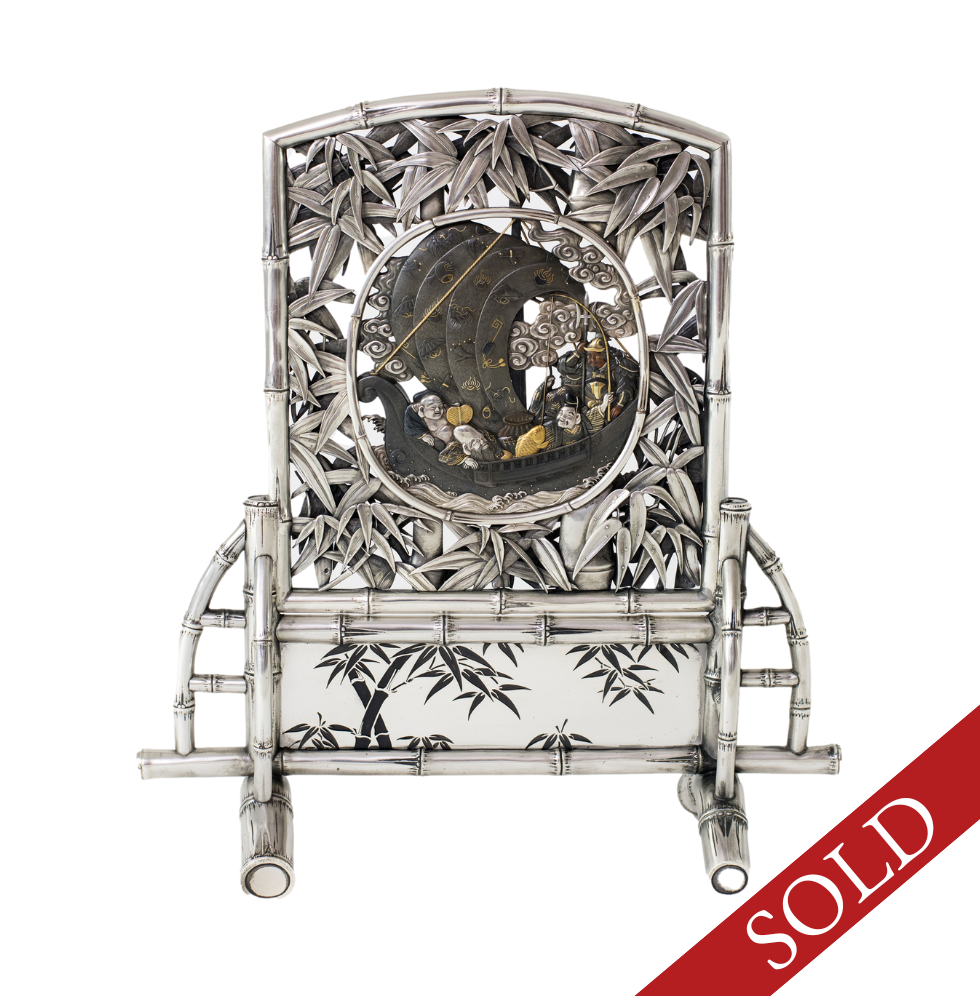 Other preview day highlights included the sale of these two important mixed metal works by Hagiya Katsuhira 1804-1886, both completely different styles of work but equally delightful in many ways. The iron wall panel displays an enchanting scene of typical Japanese taste, whereas the silver mounted table screen houses a central roundel that can only be described as breath-taking metalwork. Katsuhira was a very highly regarded former sword fitting maker now turning his skills towards works for the export market, boy oh boy could he produce sensational mixed metal techniques.
The pieces were spotted by new visiting clients who were an absolute pleasure to deal with, following a fun filled exchange and a little bit of persuasive pencil sharpening it was eventually decided that these two pieces would remain together. What a fitting tribute to the skills of this artist, coupled with the discerning eye of these much-valued clients.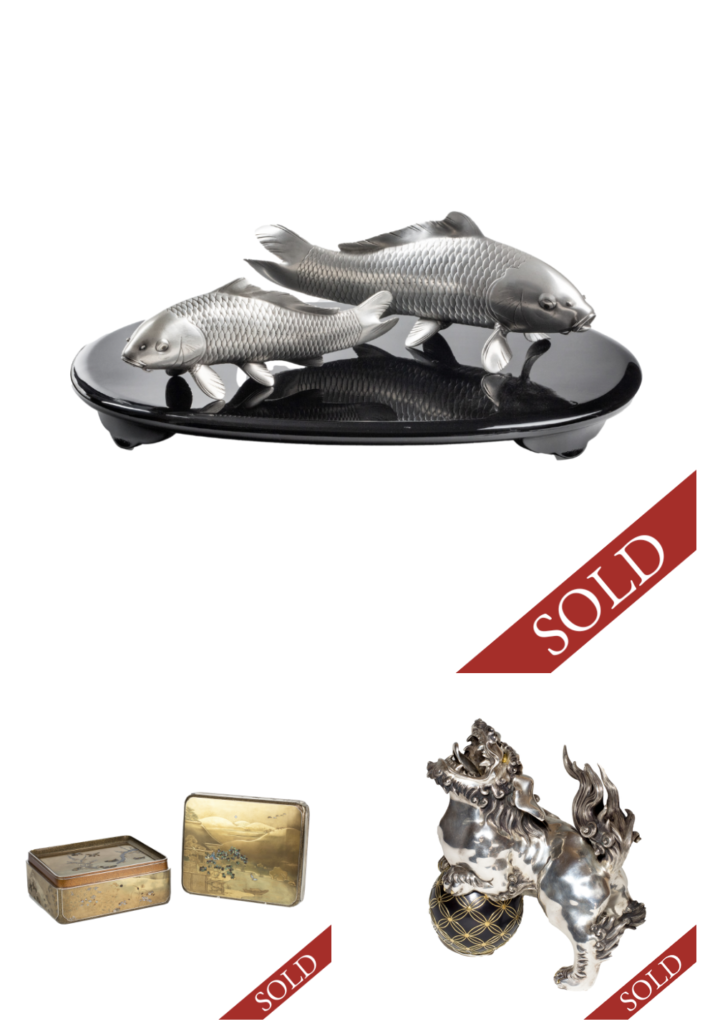 Other notable sales to overseas visitors included the Silver Carp Okimono finding a new home in Dubai, the sensational Shibayama box, formerly in the Tomkinson collection now finding a new home with a long standing Asian client, and the finely cast silver incense burner in the form of a Shi Shi Dog, artist signed by Kazumi, eventually finding its way to a new client in the USA.
In this instance the visitor in question had seen the Koro on preview day as we chatted briefly about various Japanese works of art in his collection, however it was not until the following week after he returned home to the USA, that he contacted me for further information and a WhatsApp video of the piece in situ at the show.
Clearly the impressive Koro (or my videography skills) had made a lasting impression on this collector, after agreement on price, and reassurance on our fully insured delivery procedures I am pleased to say that this fine Koro is now residing on that client's desk in the USA. His testimony upon safe receipt was to tell me that "he loves it", which was music to my ears.
I did however warn him, as I have warned several others before, that once the passion for Japanese works of art, and in particular metalwork, "gets under your skin" there is no removing it !!
Take a look at our Masterpiece highlights video here :
Naturally there are still some fantastic artworks for sale, and with Limited edition hard copy Masterpiece catalogues now available for delivery, at a cost of just £20, primarily to cover some of the production charges and the increased postal costs, why not take a look for yourselves.
Order your copies at steve@steveslyjapaneseart.com
In other news I am delighted to announce the long-awaited launch of my new website: https://steveslyjapaneseart.com
I am really pleased with the fresh design and a host of up-to-date features that will soon include videos of my latest products and a shopping basket area for secure payment by card.
As always, I will be happy to discuss any item in person and arrange fully insured delivery, layaway deposit options, and will consider any items you may wish to free up space or finances in order to refine your collection.
Enjoy browsing the new site and I look forward to your enquiries as well as your much valued feedback.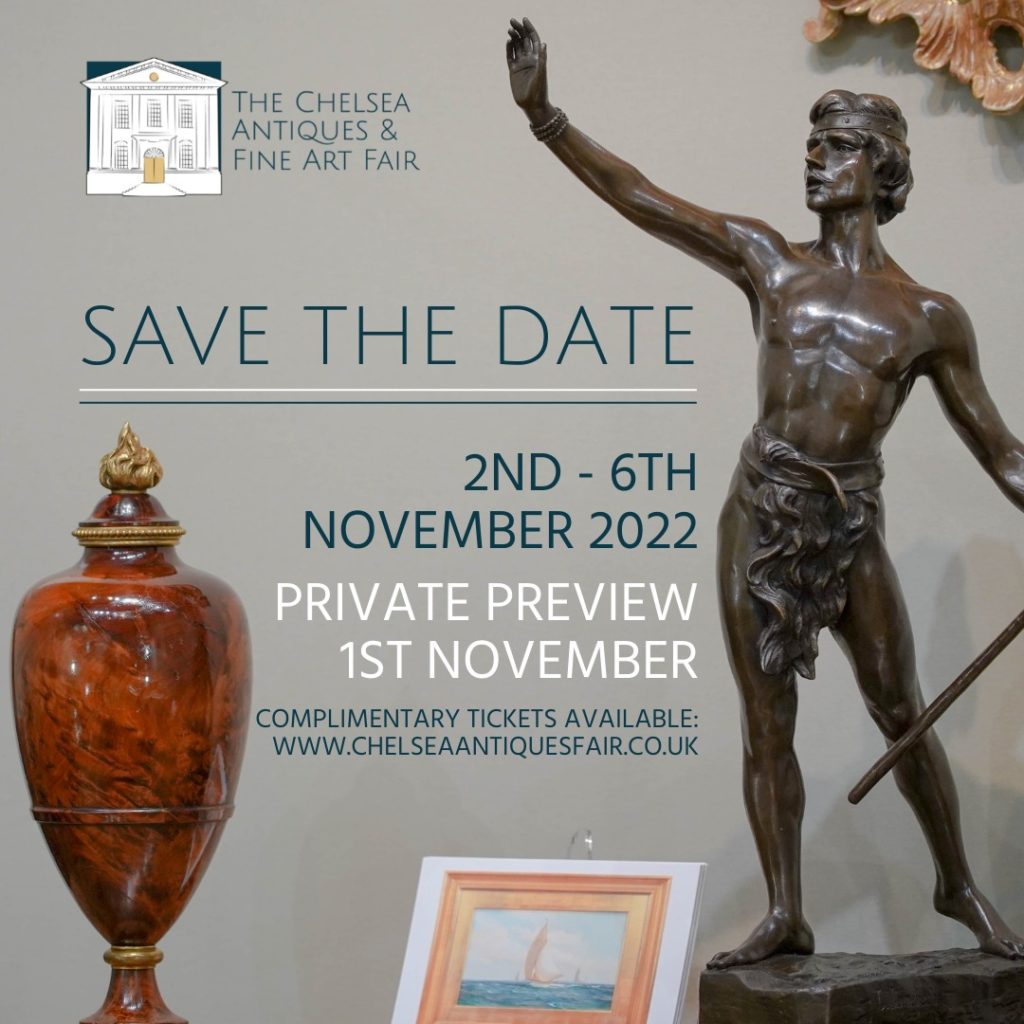 Our next event is The Chelsea Antiques and Fine Art Fair at the old town hall in the trendy Kings Rd, November 2nd – 6th, a small boutique event compared to the grandiose Masterpiece, but equally enjoyable for exhibitors and visitors alike, and this year actually hosting multiple award winning Masterpiece exhibitors.
You will receive complimentary invitations nearer the time and I look forward to seeing many of you there.
Enjoy the Summer break whatever you are doing.
Best wishes
Steve