Welcome to our December newsletter
It is hard to believe that I am writing our last newsletter of 2017, it seems only moments ago we were sharing highlights of 2016 in our January newsletter!
As I sit and compose this the curtain is coming down on our final show of the year, Winter Antiques For Everyone at the NEC Birmingham
Despite ongoing Brexit uncertainty, a recent interest rate rise and the usual doom and gloom from the media, I remained cautiously optimistic, we also clashed with Budget day and Black Friday due to this year's slightly rearranged fair date, as so often at these events there was the usual pre show inter trading between dealers, with specialists like ourselves vying to secure anything in our particular field of expertise from other more general dealers, amongst other finds we were thrilled and delighted to have secured a world class piece of Japanese metalwork that had been in a family for at least fourty years, reserved for first dibs by my colleague from a very experienced but non-Japanese dealer, once cleaned and prepared this opulent item is likely to appear as a future featured item in our exclusive *members area *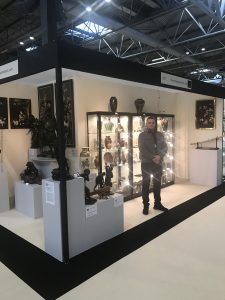 Ryan poised for opening day!!
Thursday saw the usual busy start with a mix of overseas and UK dealers amongst a high turnout of regular collectors, I was very pleased with the days business, I must confess to leaving the show in the hands of Ryan and a very capable experienced colleague on Thursday evening, returning home to attend to other pressing matters, apologies to anyone that missed me over the weekend:
I would like to take a moment to thank all of our existing friends and clients for your continued support at this hugely enjoyable Tri annual event, it was also great to meet and indeed sell to a few new collectors at this particular show, we look forward to seeing you again very soon.
Late December, and the festive break leading into the cold winter months are historically quiet times for the antiques industry, it is not usually until the spring that things generally start to liven up once again, our next planed event will be at the gorgeous setting of Wilton House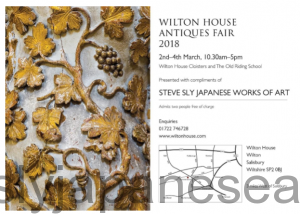 But until this fair comes around we rely upon our online platform* www.steveslyjapaneseart.com *to showcase our latest finds to our ever increasing worldwide database of customers, see further details of this month's stunning piece in the exclusive * members area *
Meanwhile we enjoy the ongoing thrill of the chase, it seems that every morning I wake up to fresh e-mails and calls offering a variety of Japanese works for sale, requests for * valuations * and general advise on all things Japanese, it is always a pleasure to assist where able, and in the hope that the next world class piece will soon be discovered, as so many have this last year.
We would like to sign off with a huge thanks to all that follow us throughout the year, and wish you a most enjoyable Christmas break.
Best Wishes
Steve and Ryan