Dear Friends
Welcome to our final newsletter of 2020, a year like no other in our lifetimes and I'm sure you will agree with my sentiments when I say it is a year that is best consigned to the history books as soon as possible, thankfully the recent news of up to three vaccines becoming available gives us much hope and optimism for 2021.
This time last month I was sat here writing to you about my upcoming visits to the gallery exhibitions in London for Asian art week, little did we know the exhibitions were about to be cut short by a November 5th Lockdown . Luckily I still managed to fit in two visits and viewed and handled some remarkable pieces of Japanese and other Asian works of art, but you could sense things were just not as they should be, I could have sauntered up and down Bond street all day without fear of breaching social distancing guidelines, it was rather surreal. However reports back from some of my peers suggest that business was done and in fact there seemed to be an understandable pent up demand from collectors in the UK and from overseas subscribers online, it was positive to hear that all the effort was being rewarded, in true dealer fashion it seems the industry were resourceful enough to "roll up their sleeves and get on with it " which suited the buyers perfectly, we will hopefully get back to some normality in 2021.
In other news we are celebrating 2Covets 1st Birthday today, an achievement that I and the team are very proud of, and now resulting in a platform hosting over 7,000 pieces from over 50 world renowned dealers, do please take a look at 2covet.com , that last Christmas gift you have been searching for may just be on there, and there is nothing more rewarding than shopping sustainable products that have and will stand the test of time for years to come.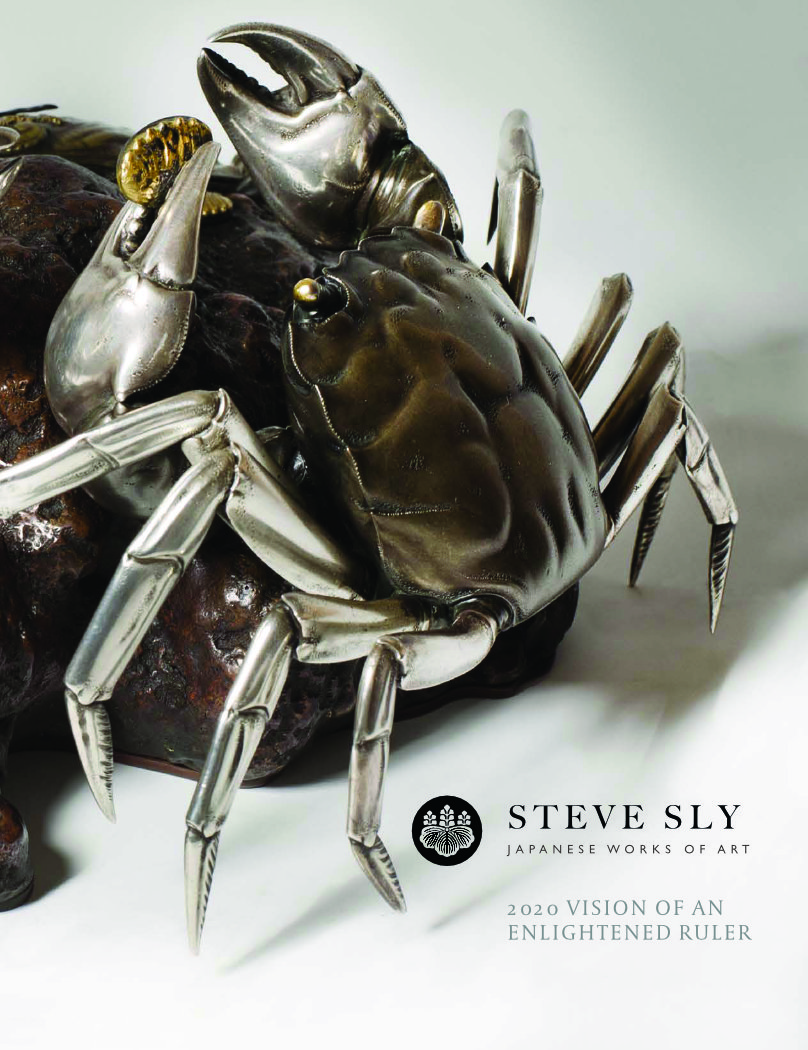 The exhibition book "2020 Vision of an enlightened ruler" is still receiving glowing reviews and further orders, there are limited copies available at £25 inc free worldwide postage.
Once again ideal as a stocking filler for the Japanese art enthusiast in your life, simply e-mail 2020 Vision to steve@steveslyjapaneseart.com to reserve your copy.
Black Friday……..How about Tempting Tuesday? Or some other nonsensical scheme to open unsuspecting customers wallets and purses. You will know that I don't subscribe to sales gimmicks and other corporate marketing scams, but equally I am conscious that times are tough and my business provides luxury products not necessities, we value our clients long standing relationships and try to give something back wherever possible, as such please use voucher code DEC 2020 for a 20% discount on any product under £10,000 for the month of Dec 2020.
Due to the recent and sudden bereavement of a client and friend we have been given the opportunity by the executors to purchase his fabulous collection of Japanese works of art, the collection supplied in the main by ourselves as well as a couple of other renowned Japanese art specialists that I work closely with, a varied collection built up over many years and containing numerous unseen market fresh pieces , some of which will be reserved for my proposed 2021 exhibition book with the remainder being offered to you through our online gallery in the coming months.


The stunning articulated Dragon is 85 cm long and was sold to this client in 2017, at that time the online price was in excess of £9,000.
Due to the UK governments ill thought out and unforeseen pending legislation on the sale of products containing Ivory I am now able to offer this to our UK and EU based subscribers at the incredibly low price of £4,000 (inc 20% discount), strictly for a limited period until Government advises us that we can no longer trade in antique Ivory, even pieces such as this dragon which are over 120 years old. However we can apparently trade in ivory inlaid musical instruments made as late as the 1970's, you couldn't make it up. Apologies if I sound angry, I am, not just for me and my clients, but on behalf of the thousands of dealers and collectors around the globe who have enjoyed dealing in and collecting antique works of art containing ivory for decades. For clarity it will be legal to own what you currently have at the time the ban comes into force, expected in early 2021, but no longer legal to buy or sell ivory products, with very few exceptions.
So if this fantastic Japanese Meiji period work of art doesn't find a new home this month then I will gladly welcome him into my personal collection for life.
I wish to sign off by wishing you a very happy Christmas a healthy new year and please do keep safe wherever you are in the world.
Best wishes
Steve