Dear Friends,
Welcome to our July newsletter,
As I sit and compose this brief update the doors are just closing on the Summer Olympia art & antiques opening day, while the preview party begins across town at the rather glamorous Masterpiece event, indeed it is an extremely busy time of the year in London with many major galleries and museums holding events and talks to coincide with these two high quality vetted fairs.
In our June newsletter I explained the positive commercial reasons why I would not be exhibiting at this particular show, but It is still with some sadness that we have bowed out of this year's Summer Olympia event, particularly having visited on preview day, meeting with colleagues and good friends and sharing that special sense of excitement and anticipation, tinged with an air of nervousness, that opening day at a show of this calibre naturally brings, "have I bought the right stock, will my regular clients arrive, how does my stand look? Just some of the many emotions facing the exhibitors, none of which can be truly captured with online sales.
I wish my friends, colleagues and the organisers all the success that this show deserves, and look forward to returning in the not too distant future.
Meanwhile we continue to concentrate on the difficult task of finding market fresh Japanese works of art , and to drive the online side of our business , our newly branded website www.steveslyjapaneseart.comlaunched just over a year ago to coincide with Summer Olympia 2016, it has grown from strength to strength with consistent demands on my time from buyers and sellers alike, so much so that I have taken the bold " leap of faith" and taken on a new full time employee, to further improve this side of our business, the "leap of faith" was employing a family member, only time will tell 🙂
I am pleased to announce the arrival of my son Ryan aged 26, ryan@steveslyjapaneseart.com Ryan is very interested in the business and antiques in general, having worked for me for many years on an ad- hoc basis, Ryan has the undoubted ability to take the online platform to another dimension, thus freeing up more of my time to concentrate on other important aspects of the business, you will soon be able to enjoy the improvements of the website functionality that he is currently working on, as well as engaging with him on the various social media platforms should you choose to.
The members area is proving ever popular with new subscribers each month getting first dibs on world class pieces, as well as guaranteed free event tickets and free no obligation valuations
From one particular regular client we recently acquired a world class Gold lacquer Shibayama screen, having sat in a collection in the north of England for decades it was my absolute pleasure to be asked to view and eventually purchase this item.
It has been reserved as the July members area featured item, going live today, join here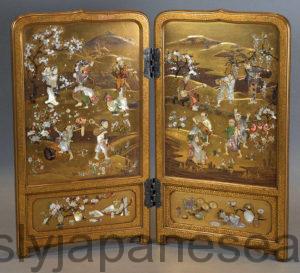 We look forward to seeing some of you at the ever popular Antiques For Everyone at the NEC, if you require further information or complimentary tickets please contact us. Have a great Summer.
Best wishes,
Steve…….oh and Ryan!
You can also follow us on Social Media, click the links below
Copyright © 2017 Steve Sly Japanese Works of Art , All rights reserved.