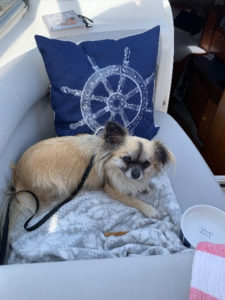 Dear Friends
Welcome to our June Newsletter.
May has been a very interesting month here at SSJA, whilst there has been a noticeable and understandable worldwide slow down in trade, certainly since the various Spring fairs, and in particular for us the Chelsea fair, I have noticed a curious spike in enquiries for particular works of art, some of which have resulted in further business from that March event. The Shibayama table screen that featured in exhibition book one, plate 32, was photographed by a client at the Chelsea show, subsequently leading to its sale, the delightful screen has now been delivered to an Asian art collector residing in London.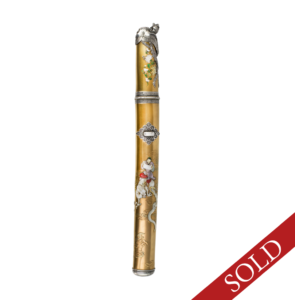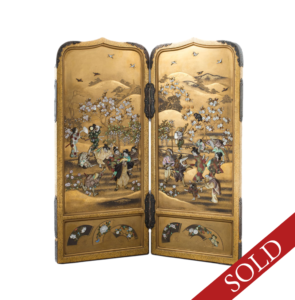 You may also recall last month I reported the sale of the magnificent condition Shibayama Tanto that had appeared In our first exhibition book at plate 34, in early May we were contacted by the same collector, who having safely received his first Tanto has now concluded the purchase of the stunning gold lacquer Tanto pictured above, an item that we recently listed on our gallery, albeit very briefly . So, it would seem there is currently a strong desire for fine quality gold lacquer and Shibayama works, and understandably so when you consider the hundreds of painstaking hours involved in the manufacture of such pieces. Can you imagine that each of the above highlighted pieces would have required a wood carver, lacquer artist, silversmith, metalworker and a Shibayama specialist, each collaborating their respective skills to painstakingly produce these works over many weeks and in many cases months. It still amazes me how such opulent and exceptional quality items remain so relatively affordable when compared to other seemingly inferior quality or mass produced Asian artworks, indeed that statement of fact can be applied across a wide range of Meiji period arts. Naturally I am biased, however I am witnessing first hand evidence suggesting that there is a new and younger audience of savvy collectors, some prepared to cross into maybe once forbidden geographical boundaries in pursuit of the very best. It is pleasing to engage with a new younger generation who are starting to realise the benefits of solid investment into Meiji Period artworks, they are following a well trodden path in the footsteps of previous generations of knowledgable collectors, looking way back to the late 19th century to connoisseurs such as Michael Tomkinson into more recent times and the sensational quality Meiji period artworks that form the extensive Khalili collections.  What can be more rewarding than collecting a particular genre of artworks that are so enjoyable to own, are a solid investment if well chosen, together with the knowledge that they simply could never be reproduced by man today. My advice to my clients rings loud and clear in my own dealings on a daily basis ' less equals more ' quite simply for the finest reward, buy the best you can afford.  Another popular area last month were ceramics, we exported our large Makuzu Kozan landscape vase that featured in exhibition book two, as well as the recently listed Studio vase by Shofu Katei, both pieces to an existing USA collector, whilst our fine 17th century Arita charger found its way to a new HK based collector. Closer to home the finely painted 17th century barbers bowl  was readily snapped up by a UK based collector of period ceramics, once again a collector that had purchased a 17th century Arita vase from us at the Chelsea show back in the Spring. Whilst every sale to any customer is equally valuable, for me personally there is nothing more rewarding than developing trusted longstanding relationships with like minded enthusiasts, customers who continue to visit me at the shows, or look in online for the purpose of acquiring fresh items for their collections, this often repeated scenario provides hours of pleasure to both parties, what's not to like . My sincere thanks to all of those clients for reaching out, trusting my eye and often going the extra mile in what are clearly testing times for many.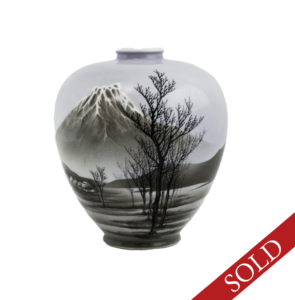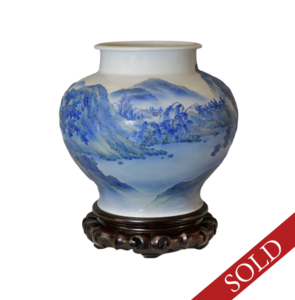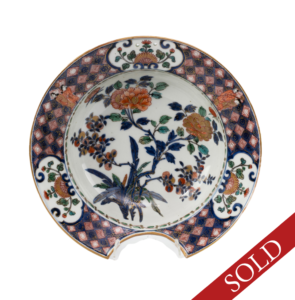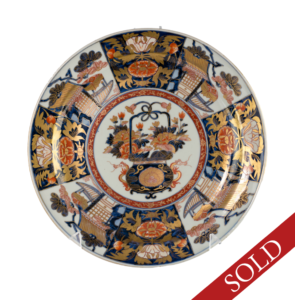 In other news I am delighted to say that I have finally finished my Masterpiece catalogue and it has just been sent to the publishers for final colour proofing and printing, unlike the first two exhibition books this will be a 92 page soft back brochure that will feature the 35 items that I will be hosting at the show. There will be a mixture of hand selected artworks from my online gallery that include a number of key pieces from my latest exhibition book that are yet to go online, all of which I feel will compliment what will be an exciting array of market fresh pieces, including a sensational gold lacquer and Shibayama box with a famous provenance and a Hawk on stand koro of a quality and presence to die for!!  
I very much look forward to sending you the final version as an online page turning catalogue sometime later in the month, and prior to the show opening to the public.
IMPORTANT NOTE:  In a slightly different format to other shows I attend, the organisers of Masterpiece request that I must provide them with all visitors e-mail data in order that they can administer invitations specifically for this show, we are assured that your data will not be used for any other reason outside of Masterpiece.
If you are in any way uncomfortable please ask to be removed from this ticket allocation, otherwise please request your tickets by e-mailing Steve@steveslyjapaneseart.com, I look forward to seeing many of you there over the eight days of the show.
With the catalogue now finished, and the chosen artworks prepared, I have managed to squeeze a few days in the diary to enjoy a spot of boating in the waters in and around Lymington marina, the first couple of days were very pleasant, Teddy and the grand daughters certainly enjoyed the experience as you can see. As part of this break Ryan and I had pre booked an intensive two day training course, just to brush up our respective boat handling and safety at sea skills, this was not only very rewarding and informative, but also a necessary part of safe boating. However we could have picked a slightly kinder window of opportunity that didn't coincide with force 4- 6 winds and rain, despite this the course went ahead as planned, choppy waters would be an understatement,  what is the old saying "worse things happen at sea" well at least we both passed the course and received the relevant certification.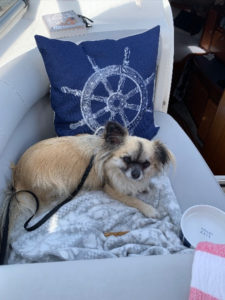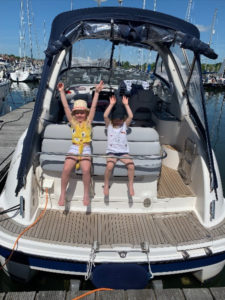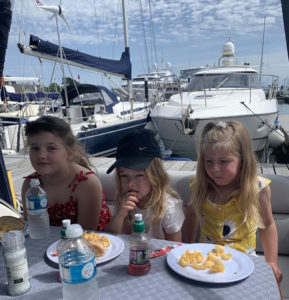 And finally It would be remis of me not to mention the remarkable milestone of her majesty's 70th jubilee and the upcoming celebrations. I wouldn't declare myself an ardent royalist but I have to say what a fantastic servant Her Majesty Queen Elizabeth II has been to this country and indeed the commonwealth throughout her historic reign.
I was hoping to find something that might be loosely royal related in my stock as a special offer feature, but clearly that would prove difficult as my only royal connection seems to be to the emperor Meiji and his imperial artists. 
As such, I would like to offer my online clients an exclusive Jubilee weekend discount code.
Simply start any enquiry with : SSJA1952, to receive 20% discount on any item currently priced up to £10,000.
As well as a minimum £2,000 discount on any item priced in excess of £10,000 (by request).
Both offers only valid during the Jubilee weekend 2-4th June inc.
Forthcoming events :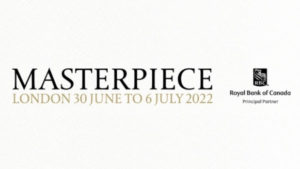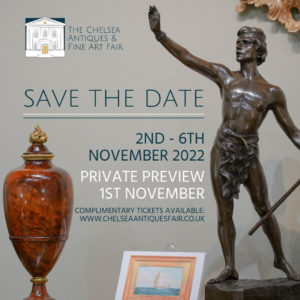 Best wishes
Steve