Dear Friends
Welcome to our March newsletter.
Whilst February might have been the shortest month of the year it was certainly action packed as far as movements of Japanese art around the globe were concerned.
The beautiful Imari Bijin eventually reached their final destination in Europe having been on an unscheduled return visit with one major carrier, the first carrier inexplicably returned the goods to our shipping agent as apparently they no longer ship antiques to Europe, surely a clerical error. A timely warning that nothing is as straightforward as it should be, particularly in the current post Brexit and Covid climate. But as always, our items travel fully insured to your door, and if there is a way to legally ship Japanese works of art worldwide we will find it.
I am advised these beauties look splendid in their new setting.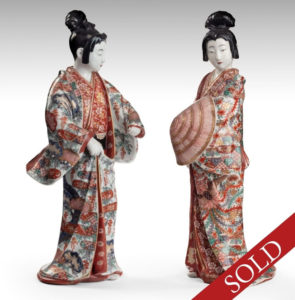 You may recall In our first exhibition book we featured the large gold lacquer Shibayama kodansu that was actually made by one of the Shibayama family members, this magnificent cabinet has found its way to an Asian Japanese art collector that had previously purchased a fine ceramic from us. It is no surprise that this collector has fallen in love with Japanese works of art from the Meiji Period as he has a natural eye for the finest pieces, I look forward to assisting with the curation of his collection for many years to come.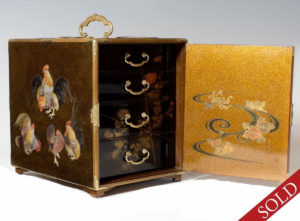 Also, from the first of our exhibition books we found a new home in Eastern Europe for the charming Komai box pictured below, the silver face of the Bijin lights up this magical iron box, inexplicably it had been in stock for a while and I had grown very attached, it will be missed and will certainly take some replacing, but it has gone to a good home, and so the search continues for a replacement item of equal charm and quality.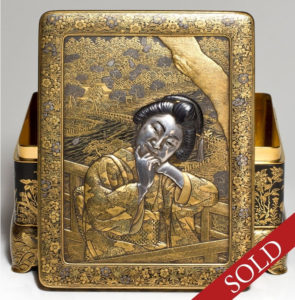 The constant dilemma is always when and how am I going to replace pieces of the magnitude of the items above?, but if you ask any dealer at any level they will tell you that sourcing stock is probably the most exciting part of the business, the hunt and thrill of the chase is what drives us out of bed at silly o'clock.
Increasingly however, and because of the power of the internet, I have noticed that dynamic change somewhat. Now Steve as the former hunter is consistently being tracked down by the sellers, who in the main looking to offer the very best pieces direct to specialist dealers like myself.
When you put yourself out there time and time again with the finest pieces it is quite amazing what finds you through the power of our friends at Google, with the upside for the seller usually being an instant decision, realistic values as well as instant payment, and no ghastly auction house commissions in between us.
Here at SSJA we are always striving for the most exceptional market fresh pieces and were delighted last month to be contacted by a very experienced USA dealer and collector who just happened to have a couple of pieces of exceptional Meiji period metalwork tucked away in his own collection. Following a short fun filled financial jousting session, which included a learning curve for each party, we eventually reached agreement, and within two days the client was paid in $ by faster payment bank transfer, and the items were winging their way to the UK fully insured, we handled all the shipping and importation documents.
The client won't mind me quoting his opening correspondence I am sure:
Dear Steve,
"I have followed your web site and admired your splendid Japanese offerings for a long while. As a modest collector of Japanese artifacts and antiques I have enjoyed the hunt and capture of a few fine pieces. It is now getting to that time to seek new homes for those things I have enjoyed."
This speaks volumes to me, and reinforces the very reason I relish getting to my desk each day. I love this business with a passion, where else would you get the thrill of images of exceptional Japanese works of art randomly coming into your inbox, pieces that I have the ability to purchase at whatever price point.
Conversely the flow would quickly dry up if my online members didn't have the appetite to take these exceptional pieces into their collections, it therefore goes without saying that you will be the first to see these items when I bring them to market.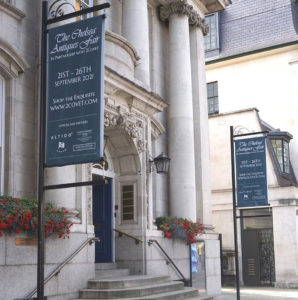 In other news The Chelsea antiques and fine art fair is now only about three weeks away, and houses over 30 top quality dealers, hosting their latest pieces at the Iconic old town hall in the Kings Road, it really does promise to be a great event as we look to build on last year's successful launch.
Be sure to print out your invitation here: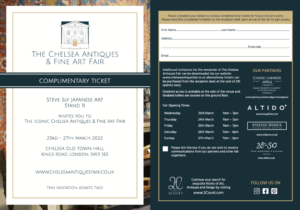 The new SSJA website is coming along nicely, I have signed off much of the design and the team at theantiquemarketingcompany.co.uk are busy working onall the techy stuff that is way beyond me, I really look forward to sharing the finished project with you, and will greatly value your feedback.
In this month's members area feature I am delighted to exclusively offer this magnificent and large silver and mixed metal vase by the well recorded and highly regarded artist Hasegawa Issei, his art name Gyokutosai.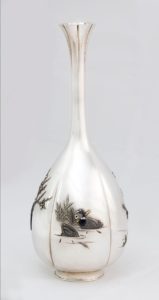 You may recall we featured a silver and shibuichi vase by this artist at plate 17 of the first exhibition book as well as a most charming pair of solid silver cranes plate 21, both items now residing in overseas collections. This particular silver vase is large scale for its type and is decorated with various mixed metal birds upon the four lobed panels.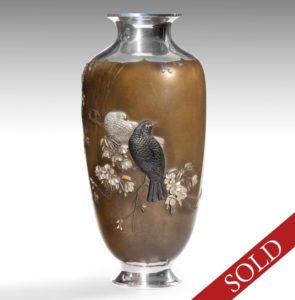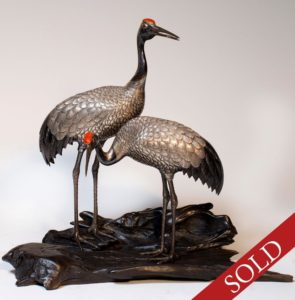 Best wishes
Steve