Dear Friends
Welcome to our October newsletter.
I wish to start by offering a huge thank you to the many of you who took the time and trouble to get in touch about my inaugural publication "2020 Vision of an enlightened ruler" the feedback received was very humbling.
Click to view my PDF '2020 Vision of an Enlightened Ruler'
This being my first ever publication naturally it was filled with a mixture of excitement and trepidation, whilst I was always ultra-confident of the Japanese works of art going into the book many other questions went around in my mind during the lengthy production process "are the images good enough", "is the editorial interesting and factually correct", "will it be well received by my peers" and of most significance have I reached out to the audience in the correct chronological order, the feedback so far has gone a long way to allay those uncertainties.
As you will know the initial exclusive launch period was limited to my loyal online members at Steve Sly Japanese art, followed seven days later with a launch onto the AAL platform. The hardback book will be out of the printers and ready for posting later this month just in time for Asian art period, thank you for the pre orders of this limited production which are still available at £25 inc free worldwide packing and posting, simply email; pre order 2020 Vision to Steve@steveslyjapaneseart.com to reserve your copy.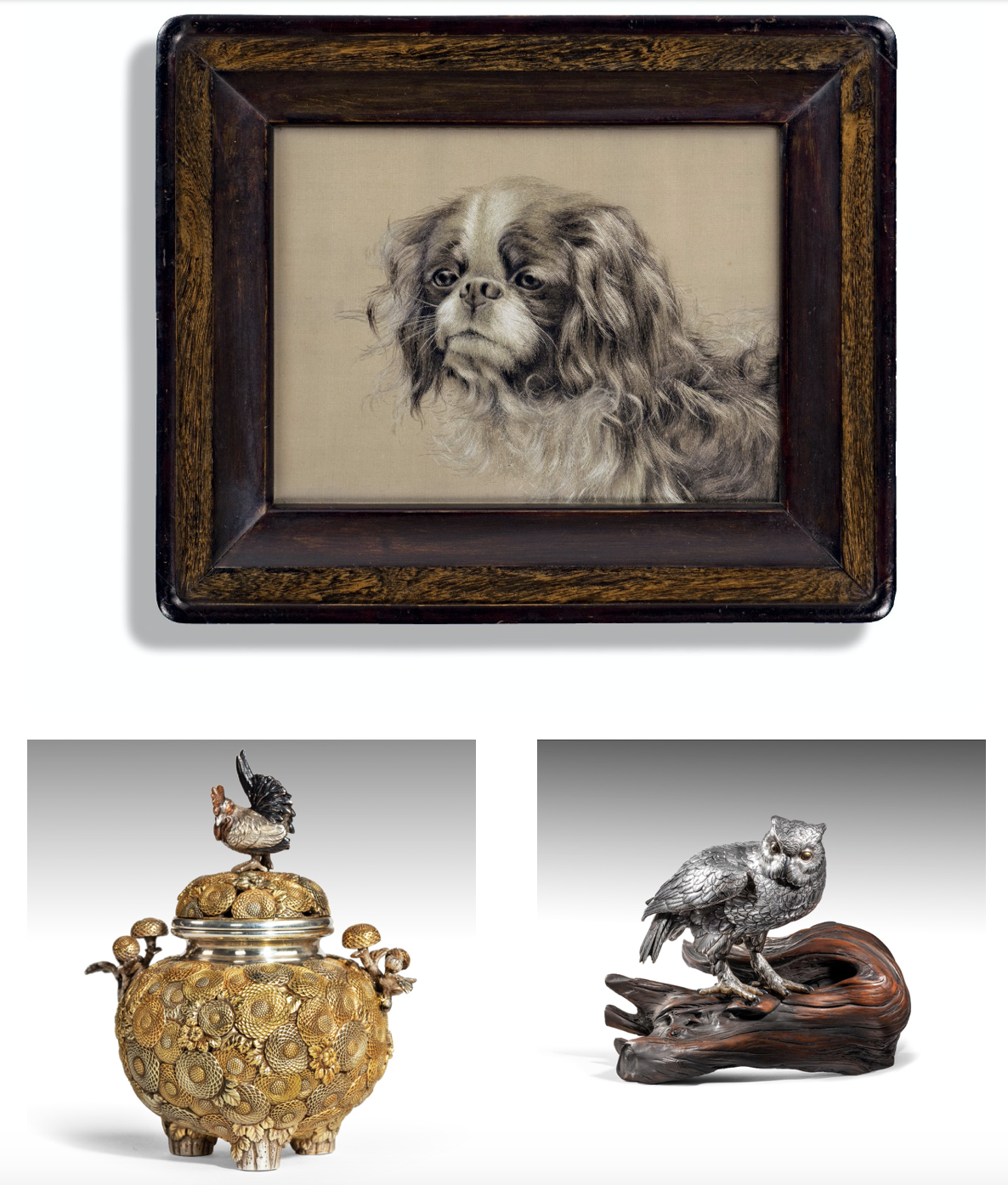 I am pleased to say the initial response was overwhelming, on day one the captivating Nishimura silk textile of a Japanese chin dog – plate 38 was sold and is now heading over the pond to join an existing USA clients collection, the Owl on stand – plate 22 and Silver Chrysanthemum Koro – plate 1 were also quickly snapped up by a UK client to enhance an exciting collection that we have been developing for some years.
Over the course of the first weekend we received further instructions to reserve the stunning silver vases – plate 10 by Yoshida Shinzo, the Komai iron vase – plate 8 as well as the outstanding Crab group okimono by Yamada Motonobu- plate 24, and of course our front cover feature, all now sold and delivered to that particular client.
It is my understanding that these three fabulous items will be repatriated to Japan.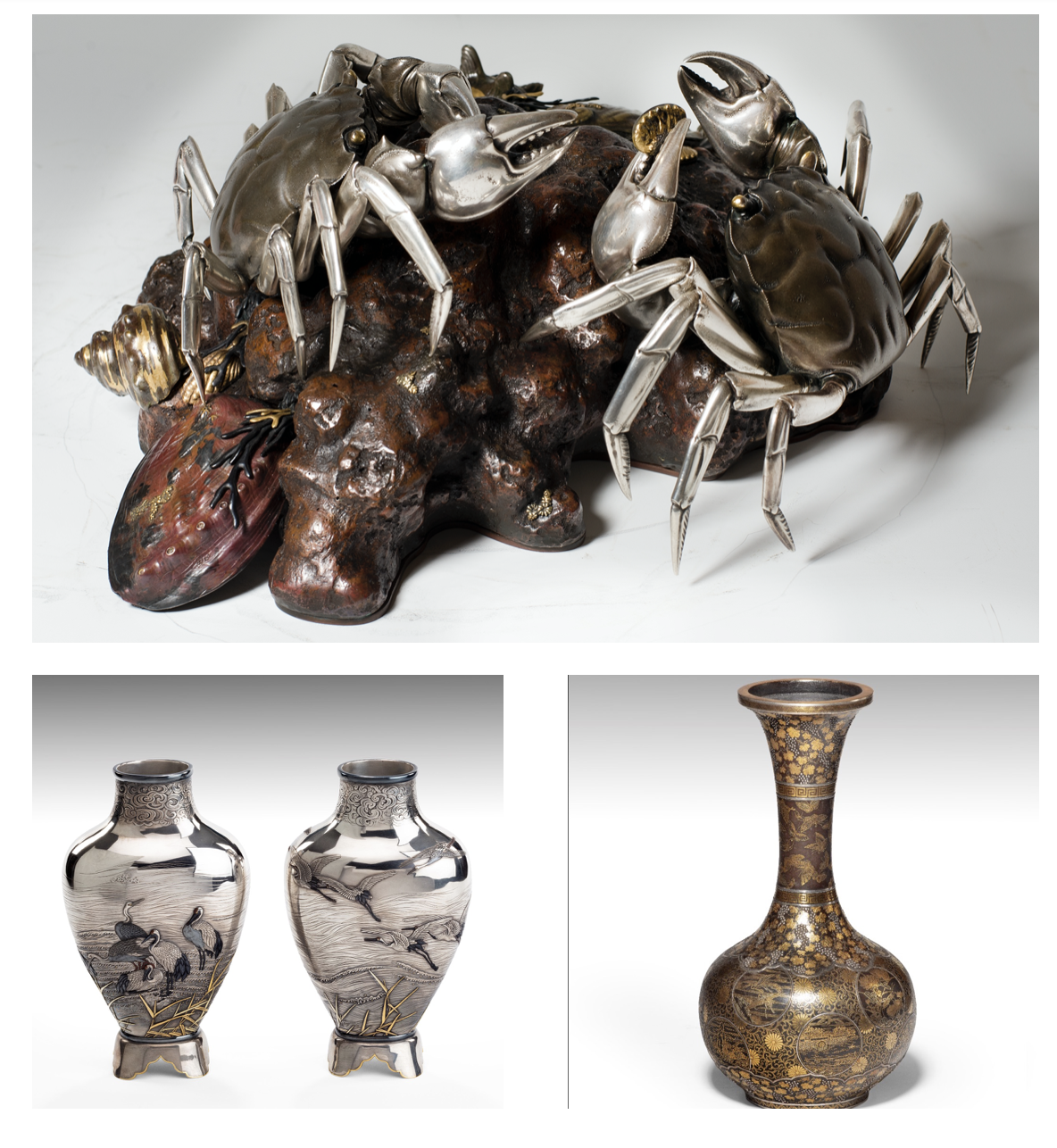 If you recall previous newsletters it was my intention to launch this publication during Asian art period Oct 22nd – Nov 7th, to co-incide with a physical gallery exhibition alongside my friends and colleagues in St James's, sadly due to the pandemic and my proximity to London I took the early decision to postpone my participation in the gallery exhibition, one I am now pleased I made from a commercial perspective although I would love to be showcasing my works in person as well as online.
My colleagues with London based galleries are going to proceed with caution in a slightly trimmed and socially distanced format of AAL and I wish them well, naturally I will be visiting the exhibitions and hope that in 2021 maybe we can join them.
Steve Sly Asian Art Banner
The early success of my pdf once again reinforces the power of online selling portals and the importance to engage with and look after your valuable database of long standing friends and clients as if they were visiting you in person, even so there are still pitfalls along the way and naturally due to time zones or time constraints some will inevitably miss pieces that they desired, as has been the case with this publication. These works of art are so individual that we cannot replicate them, of course that's what makes them so special, and I can do no more than give everybody an equal opportunity, thank you so much for your support and sincere apologies if you missed an item you desired.
With recent news and strong evidence of a second spike in covid coupled with the latest restrictions being rolled out across the country physical trading will undoubtedly remain very difficult for the foreseeable future, we have received news of the cancellation of both the Winter NEC antiques for everyone as well as the prestigious Olympia fair, with Wilton House next March already cancelled, three fairs that I regularly attended over the years and indeed met many of you at.
Ironically as I write this I have just received news that the Open art (Bada) fair in Sloane square is now in serious doubt, you have to feel for the organisers in particular who plan these events many months if not years in advance. It seems certain that antiques and fine art dealers are going to become ever more reliant on online marketplaces such as 2covet.com to host their websites and inventory, indeed just this past month we have had dealers join the platform from as far afield as South Africa and Belgium, the world is indeed getting smaller and smaller, or so it seems.
With so much uncertainty where too next for Steve Sly Japanese art?
Well one thing that certainly remains consistent is my passion and the world's leading collectors appetites for the very finest Meiji period art, those of you who know me well will not be surprised to know that I am already planning my next exhibition book and have the first few very special items tucked away ready for collating. I sincerely hope that I can get to stand in a gallery in St James next Autumn and invite friends old and new to handle and view the market fresh pieces in person.
But for now let us all keep our fingers crossed the scientists nail this pandemic and fast.
Best wishes and please do stay safe!!
Steve