Dear Friends
Welcome to my January newsletter, I would like to take this opportunity to wish each of you a happy and healthy new year.
Christmas was a nice quiet affair in the SSJA household, following last year's enjoyable Christmas day treat I had booked the same restaurant in the new forest to enjoy a family lunch, which for me consisted of a vegetarian nut roast and a few too many trimmings. I was one of the designated drivers and so the rum was left on ice at home, after some three hours and five courses it was evident that the fourteen of us thoroughly enjoyed being waited on by an excellent team and would certainly do it all again next Christmas. Lunch was followed by an exchange of presents, this year using the principle of a secret Santa, meaning only one gift per person, sensibly price capped and randomly drawn weeks before. My seven-year-old granddaughter Ella- Mae was saddled with finding grandad a pressie, and she duly delivered, the pressure was palpable as I removed the wrapping paper….It's strange how even a secret Santa gift involved socks, hey ho, naturally Ella could see I was thrilled with her kind thought. The evening continued back at home with a selection of nibbles, some delicious homemade Christmas cake, and that chilled Rum finished off the day just perfect, clearly the days excitement had exhausted Teddy boy.

Whilst on the subject of Christmas treats one particular ceramic collector used my December voucher code to snap up the super quality Japanese Satsuma vase pictured, artist signed by Kinkozan and in lovely condition, the collectors were clearly pleased upon safe receipt citing that the vase was actually nicer than the images suggested, I was equally delighted to have these particular collectors as new clients, another win win to top off what has been a hectic year.

In our ceramics section we still have a few superb pieces of Satsuma to find homes for, two by Kinkozan of exceptional quality, albeit slightly different scale and price points. It is difficult to argue that works from the higher echelons of the Kinkozan studios must surely rank as some of the finest Japanese ceramics ever produced, please do take a moment to study these fine examples.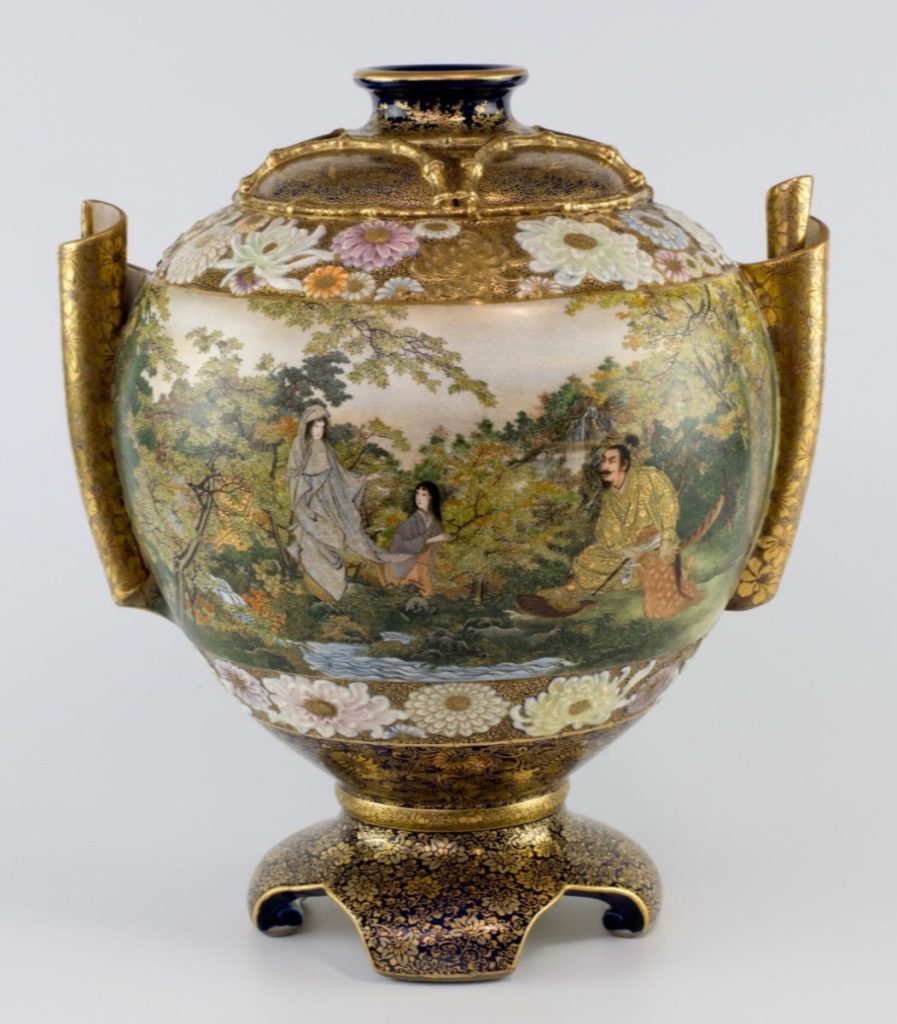 And so we press on with another exciting year ahead which includes the methodical build up to the hugely anticipated Masterpiece London 2023, 28th June – 5th July. I was getting slightly anxious with the lack of market fresh items saved on my desktop in preparation for that event, then suddenly out of the blue last month I was contacted by old clients and also managed to source some exceptional items in Europe and much further afield, including a monumental museum quality Okimono group, as well as a charming large scale textile wall hanging and an exceptional quality large Imari vase from a European noble household, these items along with others are now reserved for the Masterpiece exhibition catalogue, where of course you will get to see them first.
Naturally the hunt for the finest Japanese works of art continues on a daily basis, and whilst thoroughly enjoyable it doesn't seem to get any easier, the finest pieces are scarcer and difficult to source, as with any market if demand outstrips supply, then higher prices are recorded.
As just one example, there seems to have been a renewed interest in works by the imperial ceramic artist Miyagawa Makuzu Kozan, indeed only last month a 15 cm vase with damages achieved a price approaching thirty thousand pounds, the price for this model of vase is unprecedented and further reinforces my personal experience of a new wealthy Asian audience entering the Japanese market and driving up prices.

However, these artworks still represent tremendous value when you consider some of the prices achieved in recent years for Chinese ceramics and works of art, apparently including many fakes. It will come as no surprise that savvy investors are buying into the quality and aesthetic appeal of the finest Japanese works of art from the Meiji period, and safely in the knowledge that in the main they simply cannot be reproduced.
As such the hunt for the best is going to get tougher, but I do love a challenge and as always, I look for the positives, if that new emerging audience is driving higher price points this will inevitably bring fresh goods out of old collections and onto the market, what's not to like, let's bring it on.

Exclusively for your consideration this month is this large super quality bronze okimono depicting a study of a female Bison at rest, this bronze is artist signed to the underside by Atsuyoshi for the Maruki company and stands upon its original hardwood base.
Best wishes for a healthy 2023
Steve