Dear Friends
Welcome to our September newsletter, with the art worlds traditional summer snooze just about behind us and with many dealers returning to their galleries, I look forward with great anticipation to the Autumn seasonal events and the unknown works of art that may be discovered or sold during what is traditionally a very busy period, particularly in the Asian art calendar with the 25th anniversary of Asian Art London week.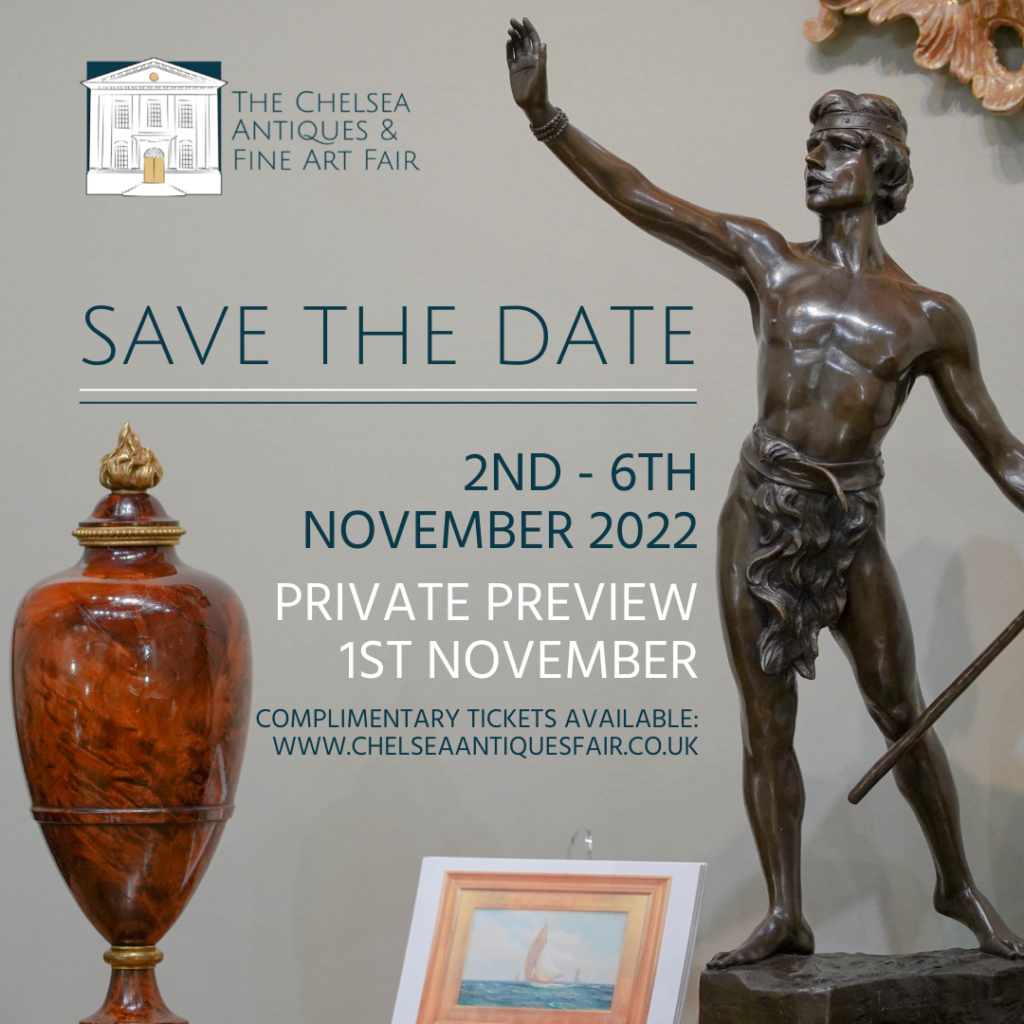 Following on from my inaugural Masterpiece London exhibition I shall be returning to the Chelsea Antiques & Fine Art Fair, a long standing event co-owned by myself and now in its 71st year, once again being held at the iconic Old Town Hall on the trendy Kings Road.
This year's staging 2nd – 6th Nov , coincides perfectly with the 25thAnniversary of Asian Art London, and as such the organisers 2Covet will be putting on a special Asian themed exhibition space, a space which will host all manner of Asian and oriental inspired works of art, as well as a series of specialist talks throughout the week. I very much look forward to being involved in this exciting initiative.
Register for your complimentary tickets at www.chelseaantiquesfair.co.uk
Thank you to all the friends and clients that have requested Masterpiece exhibition catalogues, some of you have enquired about the many sold items, my sincere apologies to those of you that have missed certain pieces. I look forward to the curation of next year's exhibition catalogue, which is already in its early stages, as always you will get first look.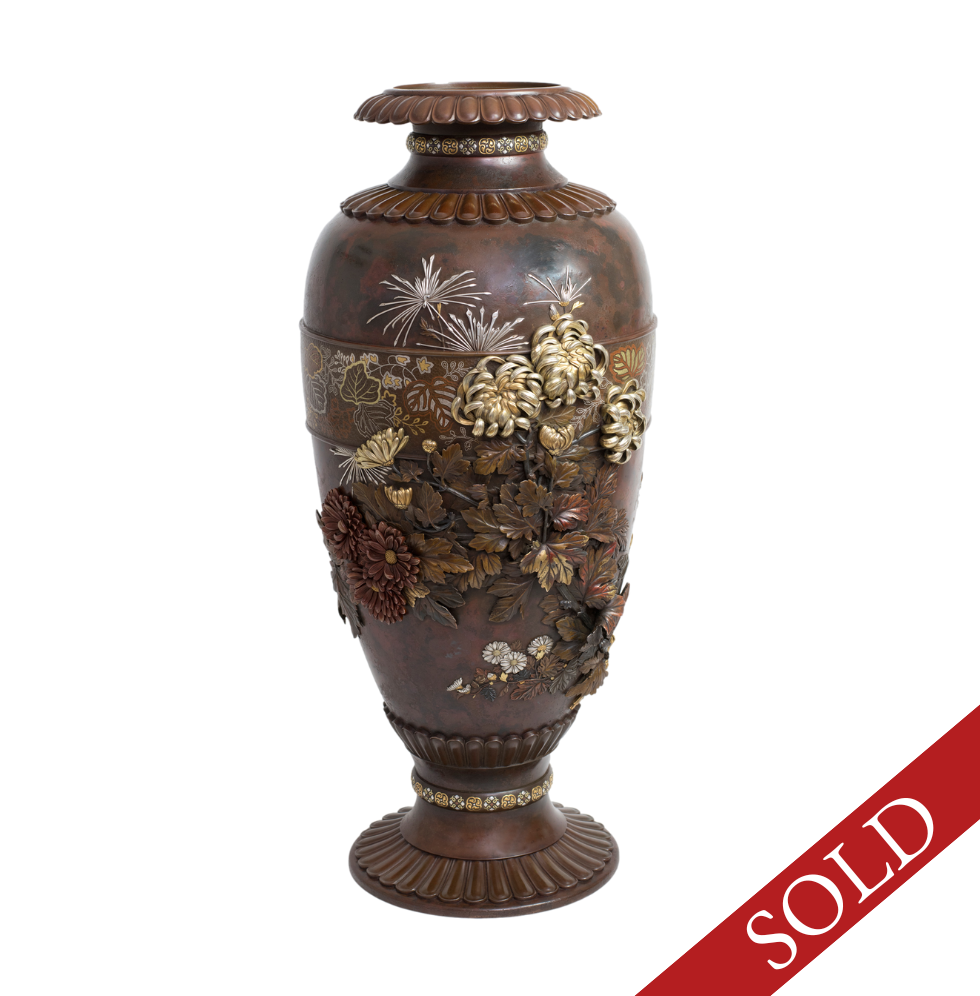 One important stand out item that had been snapped up after the show, was the Huge Exhibition Vase at plate 16, pictured above. This magnificent vase was manufactured by the Kiritsu Kosho Kaisha, a government sponsored company headed up at that time by the highly regarded Imperial artist Suzuki Chokichi, his art name Kako. It seems that this vase is destined to return home after almost 140 years away, what a fitting end to its journey. I would like to thank this client for the huge level of trust he placed in me when proceeding with this valuable and particularly difficult to handle acquisition. We had manufactured a solid foam lined crate to transport this heavy vase, and within the expected timeframes it had arrived in perfect order much to our client's delight.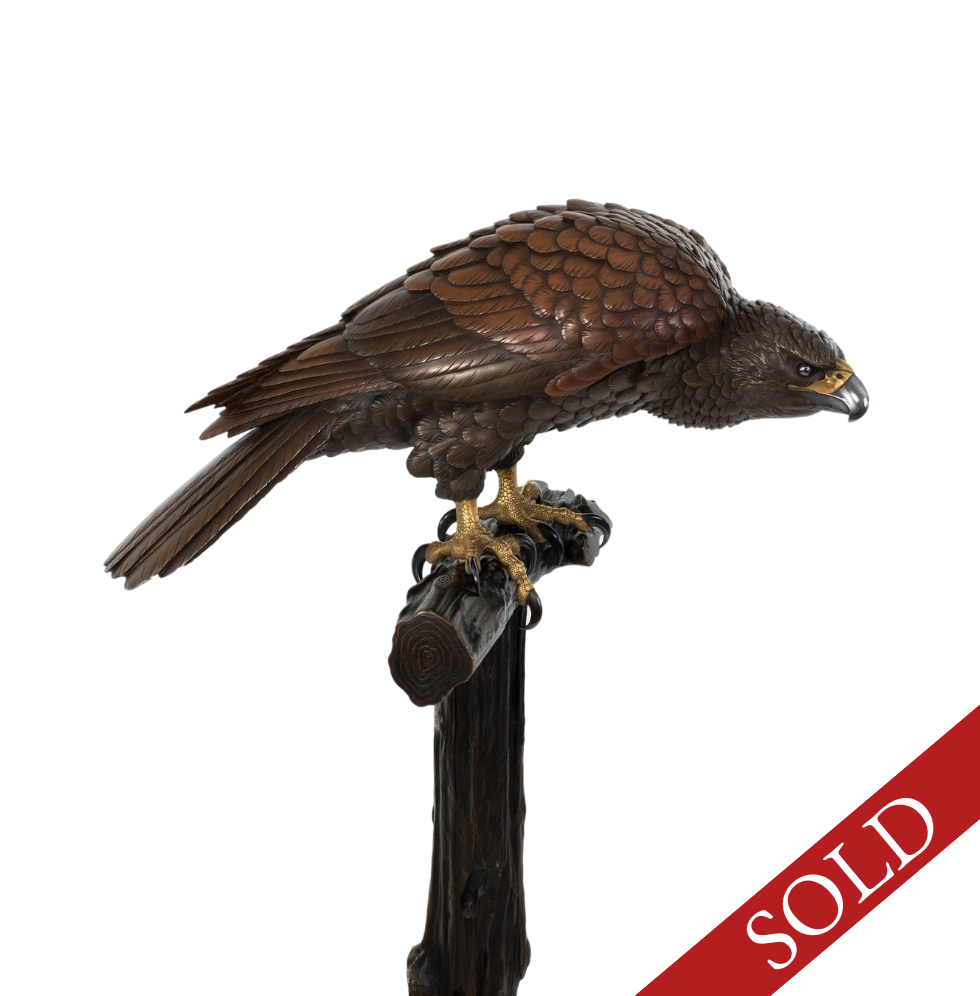 Another stand out item that finalised after the event was the simply breath-taking quality Hawk on stand in the form of a Koro, this particular study manufactured by the highly regarded Maruki company during the final decade of the 19th century. Fully artist signed and standing on its original rustic bronze base. I am delighted to have found a home within a UK based Japanese collection, a collection that I am particularly proud to have been entrusted to help curate and refine in order to meet this clients exacting standards and eye for detail.
In other news, my newly designed website www.steveslyjapaneseart.comcontinues to receive positive reviews and a seemingly higher volume of traffic than ever before, I am very pleased with the fresh user friendly layout, the videography is still a work in progress and will improve with time, but hopefully adds to the overall user experience , and the ability to check out online has had an instant impact, particularly on the lower priced items.
If you have ever used the the SSJA website to shop, purchased pieces from me at events or just signed up to follow your passion for Japanese art, I would love you to share your user experiences with a wider audience, and would be very grateful if you could find a couple of minutes spare to review your experience via Google Reviews thank you for your consideration.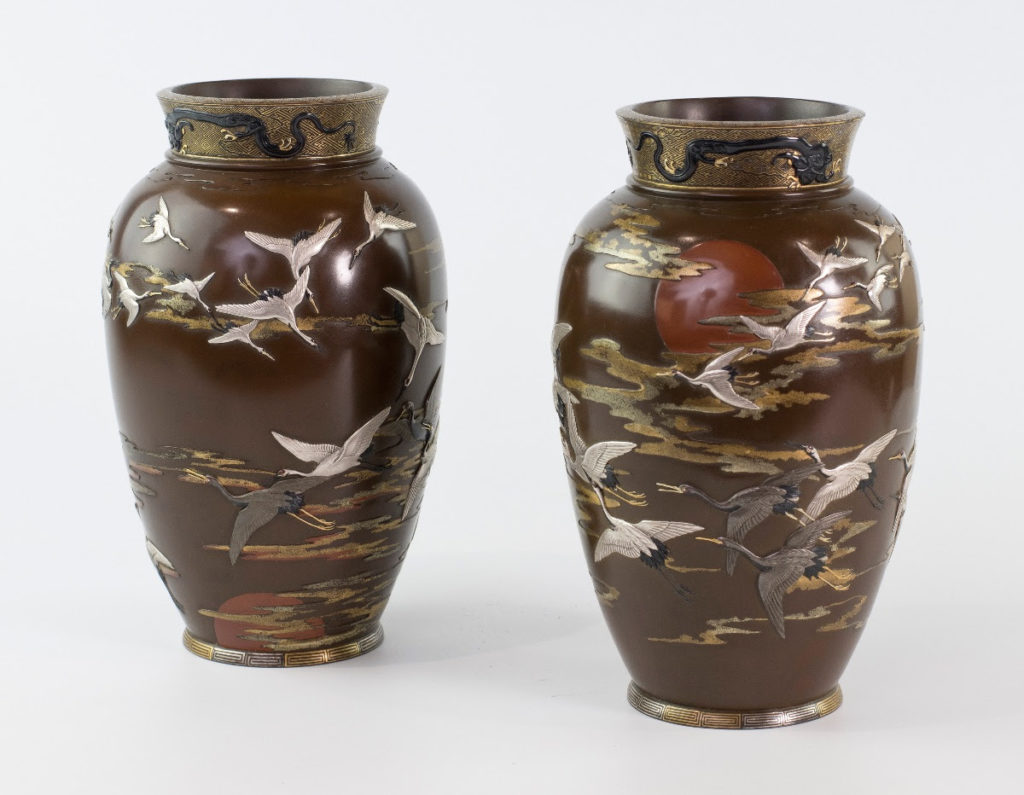 The first of this month's new arrivals exclusively available to you, are this fascinating pair of Japanese bronze & mixed metal vases depicting Manchurian cranes in flight, rather unusually the unknown but highly skilled Meiji Period artist has portrayed the birds flocking above bright copper renditions of sunrise, and a sunset reflecting upon the finely carved and gilt decorated clouds. The necks are decorated in finely gilded geometric damascene techniques around which solid shakudo water dragons can be seen writhing. A most fascinating pair of high quality vases for your enjoyment.
Best wishes
Steve