Dear Friends

Welcome to our August newsletter.

July brought much of Europe and other parts of the world to a slowdown with tourists baking in unbearable temperatures, we witnessed the unbelievable scenes of holidaymakers being evacuated from Greek islands, such a terrible scenario for the locals who are of course heavily reliant on tourism, plus spare a thought for the wildlife, it's just devastating.

Meanwhile here in the UK July brought us the much-anticipated Wimbledon Tennis tournament, this year's Ashes Test Series and the British Open Golf Championship amongst a host of other sporting events, surely a perfect time to enjoy a little rest and relaxation and maybe even some boating. Well, as it transpired a mix of sunny spells between seemingly consistent gale force winds and rain rendered July a rather depressing washout, what a stark contrast to Europe. And now the kids are off school for six weeks let's hope Summer hasn't passed us by just yet, otherwise those poor parents and grandparents could be climbing the walls.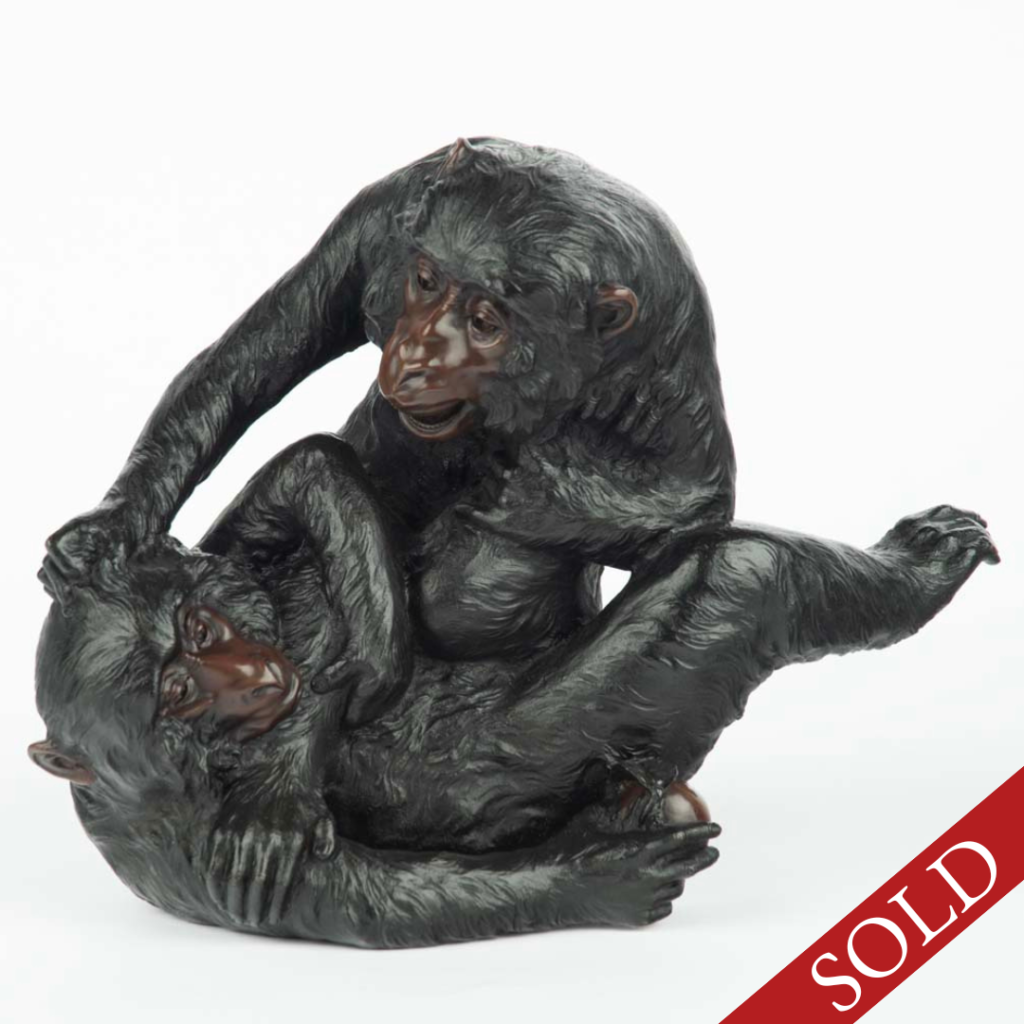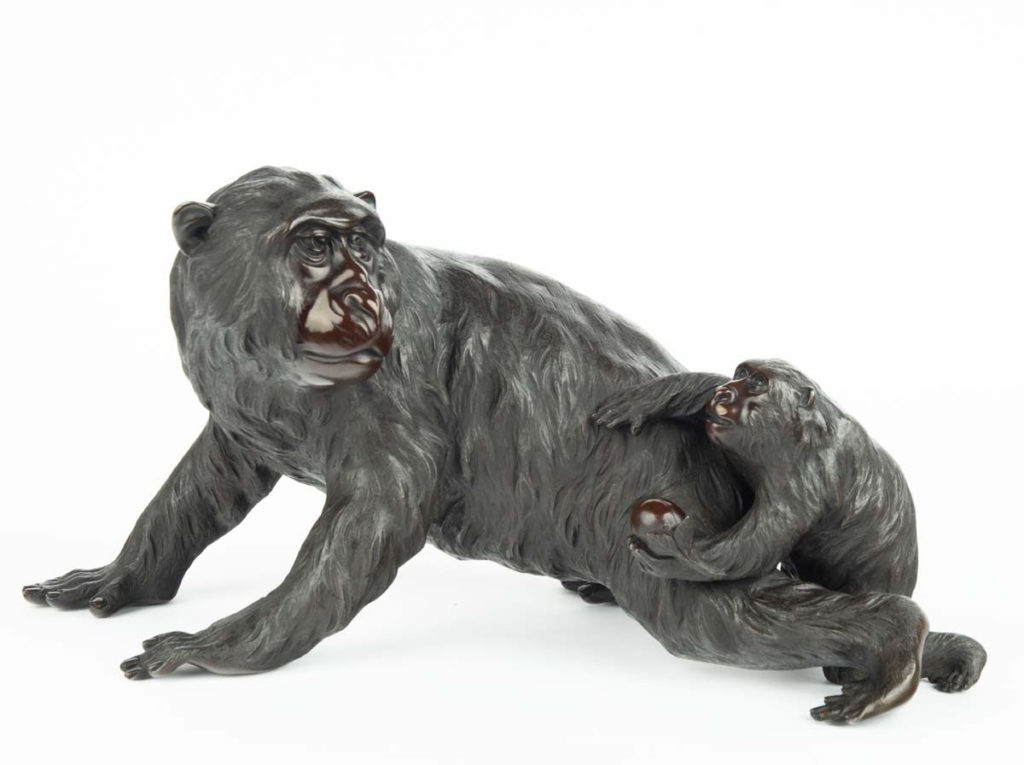 Thankfully, July bought more cheerful news on a business front, you will recall in last month's newsletter I featured the two monkey okimono formerly part of a ladies collection. I was delighted to be contacted by a UK based couple who have chosen to purchase the playful wrestling monkey okimono to join their current collection of primates, many thanks to them for rehoming these mischievous apes, this now just leaves the large adult and infant group to find a new home, please do take a further look.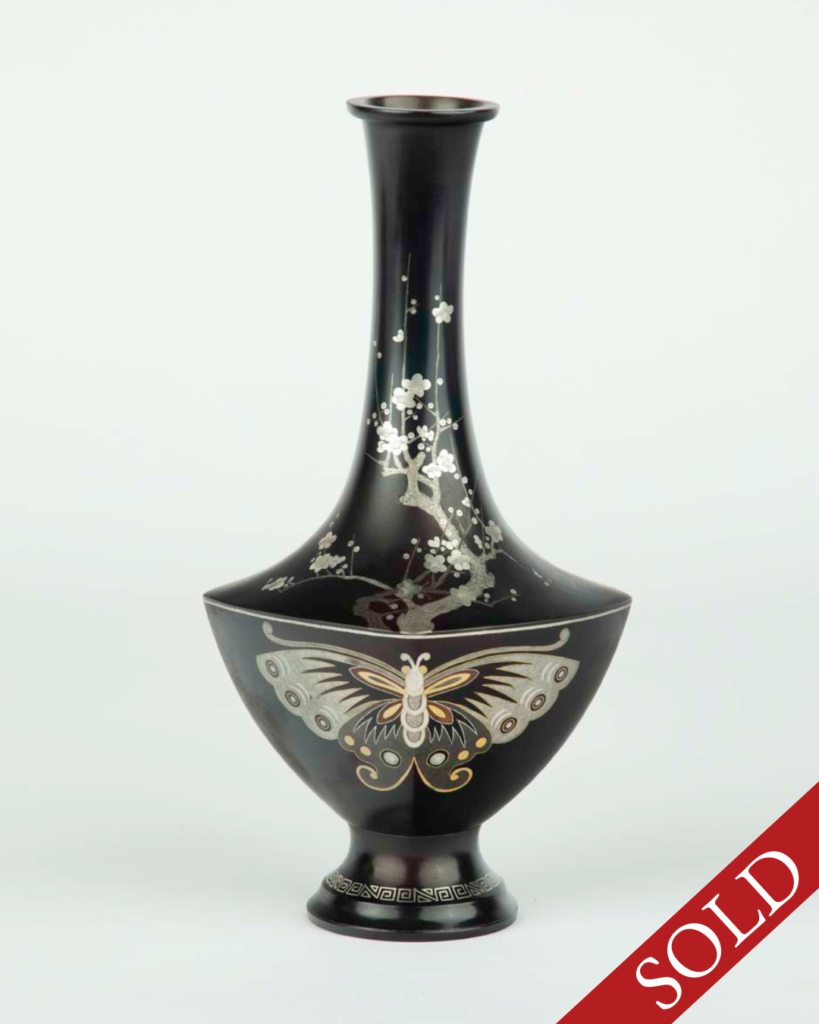 Meanwhile, further afield a USA based client returned for a range of fine quality metalware to add to his existing collection, some of which I have been privileged to supply in recent years, on this occasion butterflies were the order of the day. The first vase pictured above was manufactured by the Nogawa company and most unusually created from shakudo to one side and shibuichi to the reverse, fantastic workmanship yet still incredible value for money. However, the star of this group must surely have been the large trumpet shaped vase predominantly decorated with a rose to the main body with the borders adorned with butterflies in flight, the vase was manufactured by the highly regarded Imperial artist Suzuki Chokichi, his art name Kako, another great addition to this gentleman's well-chosen collection.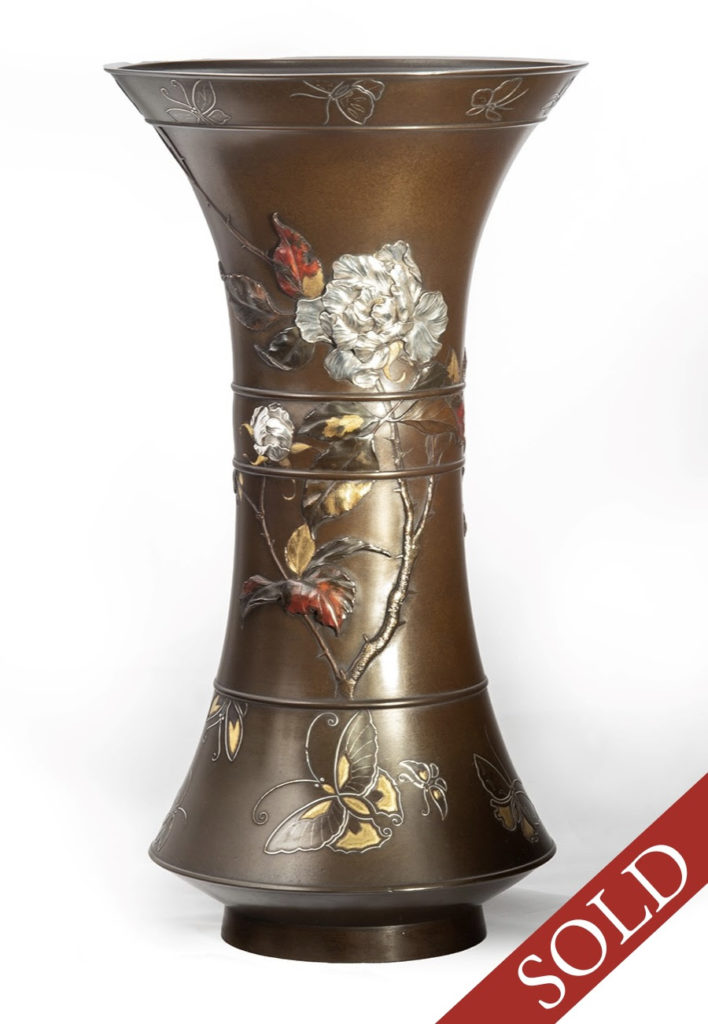 Another item to cross the pond was the large solid silver box retailed by the notable Hattori company, the shibuichi lid depicts a charming scene of a silver egret resting in a tree highlighted by the moonlit sky, the lid signed Kazuhide with gold seal refers to the Meiji Period artist Sato Kazuhide, he is better known as the maker of silver Koro decorated with chickens in the manner of the more famous Shoami Katsuyoshi's koro.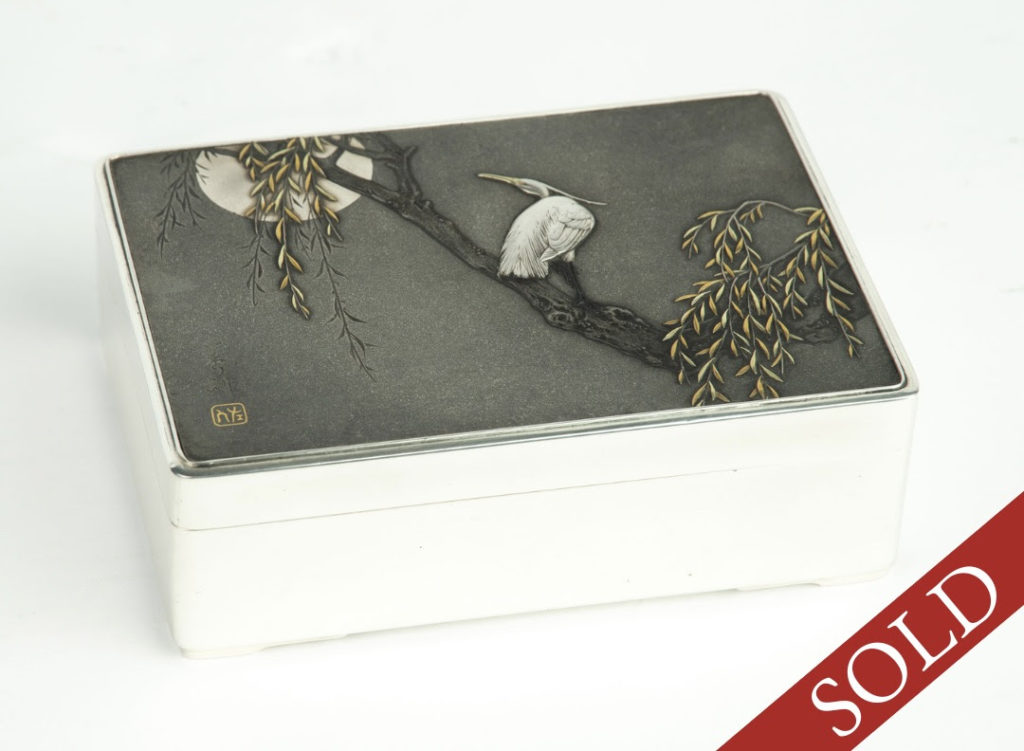 Looking ahead, as we enter August historically things tend to quieten down a shade in the art world, many dealers close their galleries to recharge their batteries at home whilst others head to destinations around the globe. I will certainly be staying at home mixing work with pleasure, if the day ends in a Y it will be business as usual here at SSJA.
So, we live in anticipation of a bright start to Autumn when things get back into full swing, the fairs that are left standing slot into the diary of events, meanwhile in my genre of goods Asian art period in London fast approaches. With the demise of Masterpiece and many other major shows I will not be exhibiting at physical events this year, however I am excited to say that I will be launching an incredible selection of market fresh Japanese works of art to coincide with the Asian art period. Naturally I will be showcasing these wonderful pieces exclusively to you in the first instance.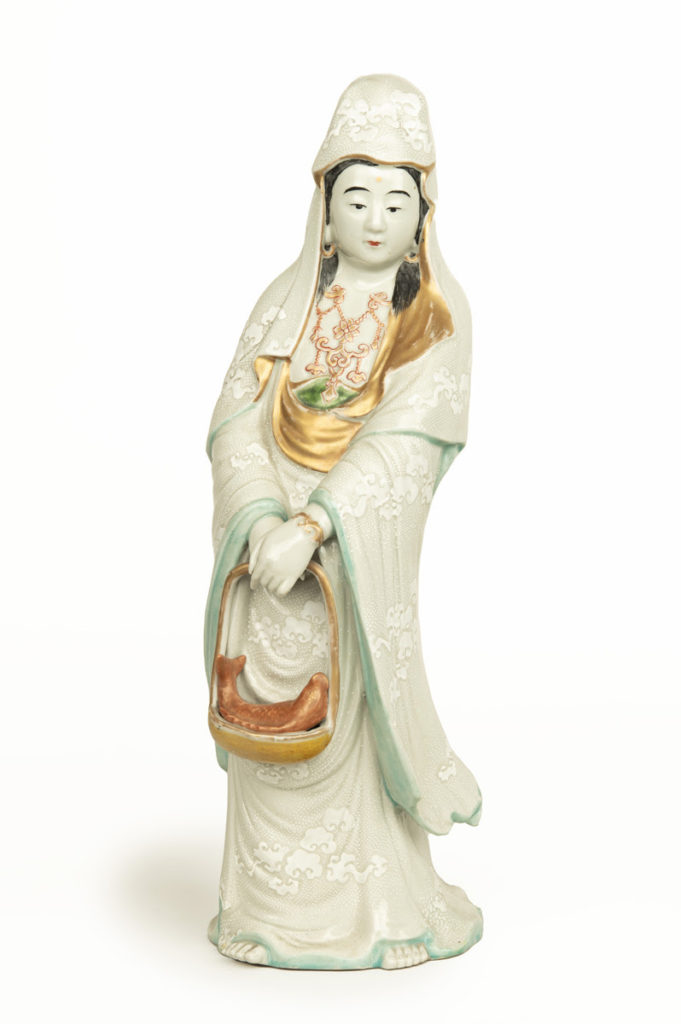 For August's featured items I am looking for a new home for this most charming ceramic okimono of Kannon the Bodhisattva, this serene study represents a symbol of peace, tranquillity and compassion throughout Asia, and can be yours for a modest outlay. Will she be bringing some calmness to your home in these crazy times.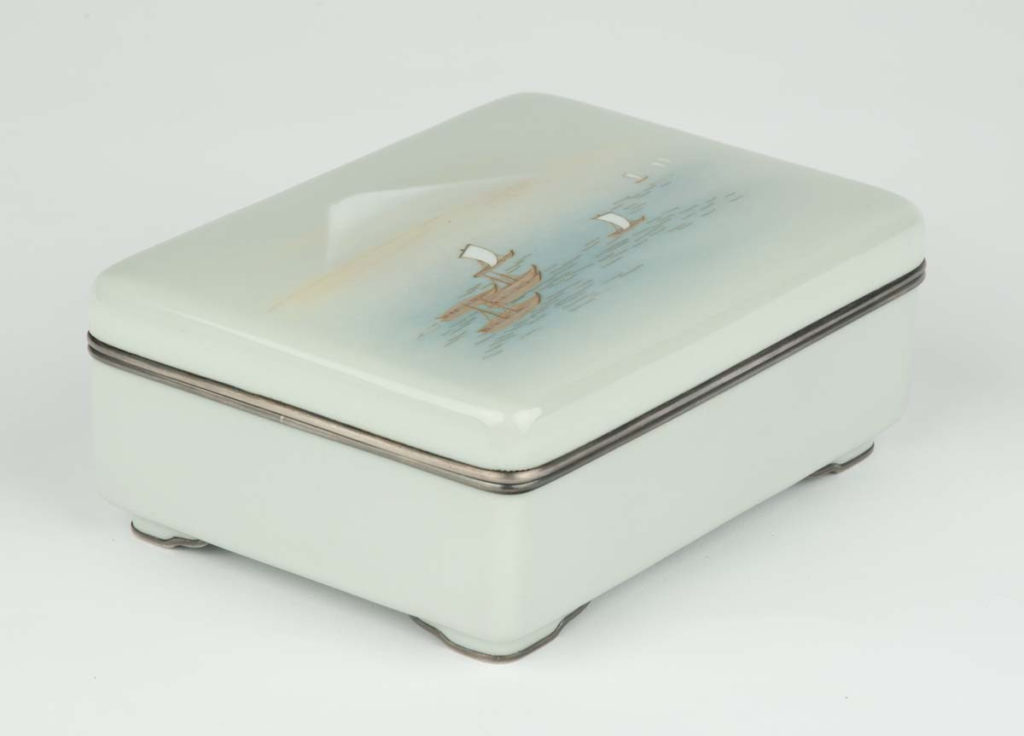 And finally how about this stunning gold wired silver mounted boxdelicately worked in musen enamels by the Ando Jubei company, a perfect gem that has been cleverly decorated with a scene of Mt Fuji amidst the clouds, somewhat reminiscent of Namikawa Sosuke's iconic works, yet at a fraction of the price.

Best wishes
Steve